Newspaper review: Fears mount over Irish debt crisis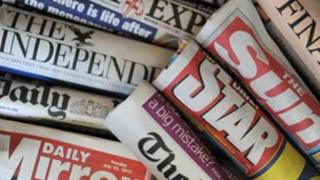 The Republic of Ireland's financial crisis worries the papers and there is support for Chancellor George Osborne's offer to help the troubled nation.
The Daily Mail says this means we must help this eurozone country as the UK's banks have lent Ireland £140bn and the country accounts for 7% of UK exports.
The Mirror says it is about self-interest as whatever happens in Dublin will affect Durham, Dundee and Derby.
The Financial Times says that Ireland is feeling the pressure.
Morale dilemma
The Daily Telegraph leads on a leaked Ministry of Defence document which says the government's defence review has badly damaged the armed force's morale.
The document, prepared by military officers and senior officials working for Defence Secretary Liam Fox says the process was carried out too quickly.
Meanwhile, shadow chancellor Alan Johnson tells the Times the Labour Party needs to be reformed.
He wants the trade unions to have less influence over the leadership process.
Wedding bonanza
The Guardian reports on proposals to allow public sector workers to set up John Lewis-style co-operatives to take over the running of services.
It says the government plans could see the biggest shake-up in state provision since privatisation in the 1980s.
And the tabloids continue to focus on the impending nuptials of Prince William to Kate Middleton.
The Sun says the wedding will boost the economy by £1bn - through tourism and the sale of food, drink and wedding souvenirs.
Shipwreck toast
Staying on the theme of celebration, 168 bottles of vintage champagne found in a 200-year-old shipwreck have been declared fit for imbibing.
The Independent says divers salvaged the collection from the shipwreck near Finland in July and the champagne had been tested, and toasted, by experts.
Experts say it tastes of chanterelle mushrooms and linden blossom.
The Financial Times reports that each bottle could fetch more than £40,000 at auction.