Royal wedding: worldwide press reaction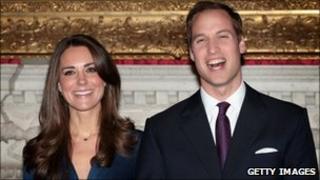 Many of the UK papers have published souvenir editions to mark the occasion of Prince William's engagement to Kate Middleton, with the Sun referencing the fact the prince gave Kate his late mother Diana's ring.
"With Mummy's ring, I thee wed", the headline proclaims.
Class distinctions
The International Herald Tribune takes a more reserved approach, and discusses how "Rank and class take a back seat" with this union of aristocracy and upper middle class circles.
The paper says the couple are part of a new generation of European royalty who have moved on from times where alliances were with other members of the same echelons of society.
Prince Wiliam is a hot topic for the Washington Post, which suggests his engagement marks a "rebirth for Britain".
The paper says the "era of Diana has returned" and the Royal Family's reputation will be boosted by the event.
The Australian offers congratulations and asks its readers to vote on whether Prince William and Kate Middleton will ever be the king and queen of Australia.
Unlucky marriages
The New Zealand Herald focuses on the social networking aspect of the announcement, and publishes the opinions of people following the story on Twitter.
It appears there is a strong desire for Prince William's fun-loving brother Harry to be put in charge of the stag do.
But the Vancouver Sun warns that although UK royal weddings are glamorous and romantic, the marriages that follow are not necessarily the luckiest.
But, the article appears to suggest, Miss Middleton could get the happy ending she wants as the couple have been together for a long time and appear to be committed to avoiding the pitfalls that have affected some of Prince William's older relatives.
Luckily the Times of India believes Miss Middleton is in good hands and describes the prince as "the most liked British royal" and says the wedding is likely to rekindle memories of the fairytale wedding of Prince Charles and Diana 30 years earlier.