Royal wedding: critics urge Windsors to fund ceremony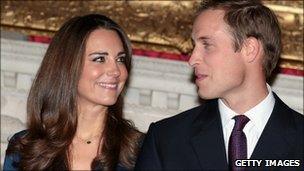 Campaigners have called for the Royal Family to meet the full cost of Prince William's wedding to Kate Middleton.
Anti-monarchy group Republic said the couple's wedding next year was a "private matter" and that taxpayers should not be expected to pay for it.
Lobby group the Taxpayers' Alliance said a "lavish ceremony" during a time of austerity would be inappropriate.
A spokesman for St James's Palace said the couple would be "mindful of the economic situation".
In a statement, Graham Smith, from Republic, said it was inevitable that the high-profile event would require considerable security but "it is not for the taxpayer to pay for any part of this event - the Windsors must cough up.
"If people are being told to tighten their belts, if the government is making thousands unemployed, if welfare payments are being slashed, it would be sickening for the government to allow a single penny more to be spent on the Royals at this time.
"Spending public money on this wedding or affording it any special status would be no more appropriate than if it were (Labour leader) Ed Miliband's wedding. This is a private occasion."
Emma Boon, campaign director for Taxpayers' Alliance, said it would be "an exciting occasion for the public" and she accepted taxpayers would carry some of the costs but that a lavish ceremony at a time of huge pressure on public finances would make the couple appear "out of touch".
She said: "Of course it should be an event for the whole nation to celebrate but ordinary taxpayers should not be left with a bill fit for a king."
In July it was revealed that it cost the taxpayer 62p per person to keep the Royal Family.
The total cost of keeping the monarchy was £38.2m during the 2009-10 financial year, a drop of 7.9% (£3.3m) on the previous year.
Related Internet Links
The BBC is not responsible for the content of external sites.