Royal wedding: From students to sweethearts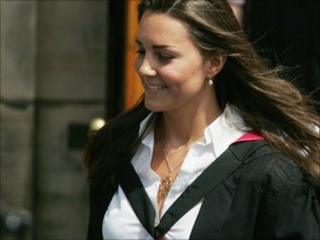 Prince William's engagement to Kate Middleton is the culmination of a relationship which began when the pair met as university students.
At their graduation ceremony in 2005 they heard a speech by their university principal, who described St Andrews in Fife as the country's top matchmaking university.
He added: "You may have met your husband or wife."
That prophesy has now come true for Prince William and his new fiancee.
The pair met in September 2001 when they studied art history together, although the prince later switched to geography.
Weekends together
In their second academic year, Kate and the prince began sharing a four-bedroom house in the town with two other students. A year later all four moved into a cottage outside the town.
Her relationship with the prince apparently flourished during weekends alone at a secluded cottage on the Queen's Balmoral estate, given to princes William and Harry as a bolthole.
Kate went on several holidays with William and was one of a close coterie of friends invited to his 21st birthday party at Windsor Castle in June 2003.
As interest in their relationship grew, it was inevitable that she would be compared with William's mother, Diana, Princess of Wales.
Both women appeared on the royal scene when they were in their late teens and neither was from a royal background.
The couple first came to public attention after they were pictured at Klosters ski resort in 2005.
In that year William had outlined his romantic intentions, saying: "Look, I'm only 22, for God's sake. I am too young to marry at my age. I don't want to get married until I'm at least 28 or maybe 30."
But rumours of a serious romance intensified in December 2006 after Kate and her mother attended Sandhurst to watch Prince William receive his army commission.
The event sparked a frenzy of speculation worldwide about an imminent engagement announcement.
Woolworths even commissioned its own range of memorabilia in anticipation of the event.
These included traditional china plates, thimbles, mouse mats and even "Will and Kate" shaped pick-and-mix sweets.
It also prompted a paparazzi free-for-all, once again drawing inevitable comparisons with the prince's late mother, killed in a car crash in Paris while being pursued by photographers.
The couple split in April 2007, and although no official statement was issued either by the prince or Miss Middleton, media pressure was one of the factors blamed for the break-up.
Other theories included the strains on the relationship engendered by the prince's Army career, and even interference - never substantiated - by members of the Royal Family.
Reunited
Speculation the couple had reunited was fuelled in July 2007, when Miss Middleton was pictured at the tribute concert to Princess Diana in Hyde Park.
The couple denied they had reconciled, saying they were "just good friends".
But by the end of the year they had been seen in public together on a number of occasions.
And it was not long before Miss Middleton began appearing at official engagements, including when the prince was given his RAF wings by his father.
In a romantic gesture gone wrong, Prince William caused controversy when he landed an RAF Chinook helicopter in the garden of Kate's parents' home in April 2008.
With the prince beginning his RAF career as a search and rescue pilot, some questioned whether the commitment needed might cause problems in the relationship.
But it seems the couple have weathered a media storm and are ready to make a lifelong commitment to each other.