UK soldier killed in Afghanistan named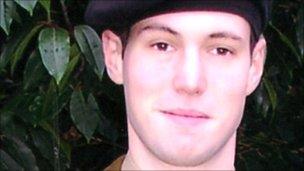 A Northern Ireland soldier killed in Afghanistan on Remembrance Sunday has been named as Ranger Aaron McCormick of the Royal Irish Regiment.
The 22-year-old, from County Londonderry, was helping to clear roadside bombs in the Nad-e Ali area of Helmand when he was caught in a blast.
Colleagues called him the "epitome of the Irish infantry soldier".
His death came as Prince William flew into Afghanistan with Defence Secretary Liam Fox for a remembrance service.
It was Ranger McCormick's second tour of duty in Afghanistan, where he was involved in detecting mines.
Lt Col Colin Weir, commanding officer of the 1st Battalion, the Royal Irish Regiment, said: "Ranger Aaron McCormick was the epitome of the Irish infantry soldier - tough, selfless, good-humoured and full of compassion."
He said his death had left a gap in his ranks "no ordinary man could fill".
"This place is already better for Aaron having been here. We will now build on his good work with renewed determination to win," he added.
Ranger McCormick leaves behind his parents, two sisters, brother and his girlfriend.
Reverend Mike Roemmele said he had visited his family, who were only just back from a holiday.
"They are obviously completely devastated by the news," he said.
"He has sadly only had a couple of months there and he is the first of the regiment who has died on active service since he and his friends were sent out."
Mr Roemmele said Aaron was "a lad who was full of life, had a great deal of fun and had a number of interests but his primary interest was his service and being with his friends in the Army".
Defence Secretary Liam Fox paid tribute to "a courageous soldier who was always willing to put himself in harm's way to protect his colleagues when on patrol".
Northern Ireland Secretary Owen Paterson said: "On the day that we remembered all those who died defending freedom and democracy another brave young man gave his life in that cause.
"This conflict is global but the grief and pain of loss is intensely personal."
Ranger McCormick's death takes the number of UK servicemen and women to have been killed in Afghanistan since 2001 to 344.
Related Internet Links
The BBC is not responsible for the content of external sites.