Newspaper review: Freedom in Somalia dominates papers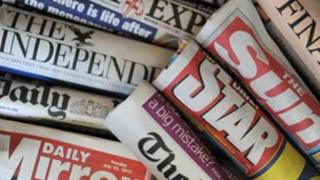 "So happy to be alive - so happy to be free" is the Daily Mail's headline describing Paul and Rachel Chandler's feelings after they were freed.
The Times says the paying of a large ransom creates a "terrible precedent".
The Daily Mirror says it wished their release had not been bought but says the end justified the means.
A commentator in The Independent argues that only by tackling poverty and anarchy in Somalia can piracy be eradicated.
The Financial Times and the Daily Telegraph both lead on reports Ireland is resisting EU pressure to accept a multi-billion euro bailout package.
Writing in the Telegraph, Peter Oborne makes the case for countries such as Ireland and Greece to abandon the euro.
The Guardian says changes to benefit rules could allow people to sign up for as little as two hours' work a week in a "slivers of time" initiative.
It says the idea is at the heart of the government's welfare reforms.
The Times says Sinn Fein president Gerry Adams' decision to quit as an MP to seek election in Ireland is the most audacious gamble of his career.
The Daily Express also believes he is risking his political future.
The Independent reports from Burma on Aung San Suui Kyi's first speech since she was freed from years of house arrest by the military regime.
The paper's correspondent in Rangoon says she spread a message of solidarity and hope to her supporters.
The Daily Star says X Factor fans are becoming suspicious about Katie Waissel after she survived the axe again.
Simon Cowell and Cheryl Cole both voted to save her at the expense of teenager Aiden Grimshaw.
The Star claims the show's producers ditched plans for a double elimination amid suggestions she is being favoured by Cowell et al.
The Sun reports Bob Mewse was shocked into losing a third of his bodyweight after seeing a picture of himself on the Google Street View mapping service.
He said: "I'd been thinking about losing weight for some time, but after seeing that picture, I knew I had to do something."