Record number of beaches meet highest water standards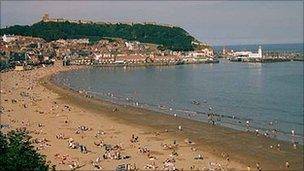 A record number of beaches in England and Wales have met the highest European standards for bathing water quality this year, the Environment Agency says.
It said 86% of beaches and bathing spots reached the European Commission standard, compared with 80% in 2009.
Ten of the 493 sites monitored failed to meet even minimum standards.
The Marine Conservation Society welcomed the figures but said it remained concerned about pollution from sewage overflows during heavy rain.
It also pointed out that stricter standards are due to be introduced across Europe in 2015.
Environment Agency chief executive Paul Leinster said: "The number of bathing waters in England and Wales attaining the highest quality status has almost tripled over the last 20 years - over eight in 10 sites now meet the EU 'guideline' standard for water quality.
"The Environment Agency is working hard with others to drive improvements and tackle all sources of pollution, alongside beach users, local authorities, farmers, land managers and water companies."
Water quality on bathing beaches is monitored for bacteria between May and September.
Tougher standards come into force from 2015, but already more than 80% of beaches in England and Wales are clean enough to meet the new measures, the Environment Agency said.
All 79 monitored beaches in Wales met at least the minimum standards, but 10 in England missed out.
They were: Lyme Regis Church Beach, Dorset; Mothecombe, Seaton and Instow, all in Devon; Seaton, Cornwall; Saltburn and Staithes in North Yorkshire; Heysham Half Moon Bay and St Annes, both in Lancashire; Walney Sandy Gap in Cumbria.
Related Internet Links
The BBC is not responsible for the content of external sites.