Are British Muslims being priced out of pilgrimages?
By Robert Pigott
BBC News religious affairs correspondent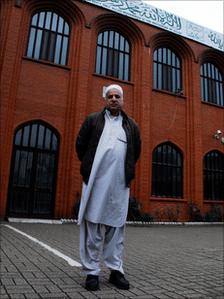 Even in Luton, the Holy City of Mecca looms large.
In the town's Central Mosque, Muslims turn to face in the direction of Mecca, kneel and touch their faces to the floor in prayer.
Dominating the wall in front of them are two large photographs, showing teeming crowds of pilgrims swirling in a broad river of people around the al-Haram mosque at the spot where their religion was founded.
An estimated 100,000 British Muslims are already in Mecca for the Hajj, the annual pilgrimage that Muslims are called upon to make once in their lifetimes.
But many more have been left behind, excluded from what they regard as a sacred duty by an extraordinary increase in prices.
Jahangir Akhtar is one of them.
At a stone's throw from the mosque Mr Aktar and his wife look wistfully through colourful brochures advertising "Hajj packages" they stand almost no chance of buying.
The Akhtars are in their 50s, unemployed and live on benefits.
They know that Muslims are obliged to go on the pilgrimage only if they can afford to, and are well enough.
Richer person's privilege?
But Hajj is also one of the five "pillars" of Islam.
These are the central obligations - such as giving to the poor and fasting during Ramadan - which according to Islam every Muslim must satisfy in order to live a good and responsible life.
It means people like the Akhtars are desperate to go, but can see no prospect of ever doing so.
"I am unemployed. I get £52 a week to live on," says Jahangir Akhtar, "and the packages are getting more and more expensive.
"I saw in a newspaper advertisement that they cost £2,500 or £2,800 with different companies. I don't want to blame anyone but my point of view is 'think about the poor people'. In Islam they teach you to think about the poor people, not the rich people."
But there is a growing perception that Hajj is becoming a richer person's privilege.
Small, cheaper, hotels in Mecca have been replaced by larger, more expensive ones.
Ajmal Masroor, of the Islamic Society of Britain, claims that increasing bureaucracy connected with the Hajj in Saudi Arabia is also inflating the cost.
He says there has been a proliferation of agents and middlemen, each intent on taking a share.
"I went on Hajj four years ago and I only paid £1,400, and that was affordable, or just about," says Mr Masroor.
"Now you're talking about £4,000 or £5,000. That's almost impossible for middle class and middle income families to be able to go to Hajj, and they're the majority.
"So most British Muslims, who would love to go to Hajj - whose earnings are meagre like mine - can no longer afford it, and that hurts."
But the Saudi government insists that it is committed to keeping prices "affordable".
A statement from the Saudi embassy in London hinted at other reasons for the increasing cost of Hajj.
It said: "The cost of services provided by travel companies which operate Hajj tours is however a factor of the marketplace in the UK, over which the Saudi Arabian government has no control."
Some travel companies have been blamed by British Muslims for the surge in prices, and some have been accused outright of overcharging vulnerable people.
Sean Tipton, of the Association of British Travel Agents, says part of the problem is that many of the companies are unregulated, and ready to squeeze as much revenue as they can out of a market where demand is rising.
However, the pilgrimage has become increasingly crowded - a million people went in 1996, and 2.5 million went last year.
That makes it partly a matter of demand and supply.
"Prices can rise just as much in registered companies as in non-registered companies," says Mr Tipton.
"When you have large numbers of people wanting to go away in a limited period of time on Hajj, then unfortunately it's going to cost more than if you were to go away at another time of year."
Muslims can visit the holy sites in Mecca at other times of the year - a pilgrimage known as Umrah.
But only the Hajj - which falls in the 12th month of the Islamic lunar calendar - will satisfy the longing of Jahangir Akhtar.
"Half my life is gone," he says. "I don't know how long I will survive, it could be five years, it could be five minutes.
"It is every Muslim's dream to go to Hajj. I hope my dream will come true, but I don't think so. It would be a tragedy for my life. I am a very sad person, you know."
During Hajj, Muslim men dress alike, in the simplest of white clothes - rich and poor, equal before God.
But poor Muslims say this spirit of equality will be undermined if the rising price of pilgrimage excludes them from their holy city.
Related Internet Links
The BBC is not responsible for the content of external sites.