Royal Festival of Remembrance attended by Queen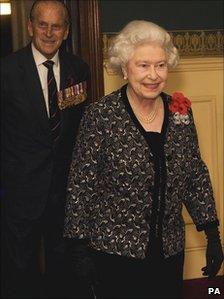 The Queen has attended the annual Royal Festival of Remembrance in London to remember those who have given their lives fighting for the country.
Other royals, military veterans, war widows and pop stars joined together for Saturday night's Royal British Legion event at the Royal Albert Hall.
It gave a special focus to the recent losses of UK soldiers in Afghanistan.
Earlier the Prince of Wales joined 150 war widows for a service of remembrance at the Cenotaph in London.
The Cenotaph will also host events on Remembrance Sunday.
Queen guitarist Brian May was at the Royal Albert Hall to perform with singer Kerry Ellis, and Hayley Westenra sang a musical version of For The Fallen, accompanied by actor Bernard Cribbens.
Lance Corporal Ram Patten, who has just returned from Afghanistan, carried the Book of Remembrance into the hall and said it was "an absolute honour and a privilege".
He was accompanied by the "March For Honour" teams who have been trying to raise £1m for the British Legion.
The serving and ex-servicemen have been marching across the UK since 4 November in four groups - walking a mile for every British military life lost on operations in Iraq and Afghanistan since 2001.
Other royals at the Royal Albert Hall event included the Duke of Edinburgh, the Prince of Wales and Duchess of Cornwall, and the Duke of York, Earl and Countess of Wessex and the Princess Royal.
Prime Minister David Cameron attended the event, with his wife Samantha and his mother.
Earlier in the day Prince Charles, patron of the War Widows Association, laid a wreath at the Cenotaph and attended a reception.
One of the war widows, Betty Withers, 85, from Leicester, whose husband died from long-standing battle injuries in 1994, said: "What we need to think about is the young ones who have died in Afghanistan, and it's their incredible bravery and courage we should remember at this time of year.
"We see the young chaps heading to war and they look just like our husbands did 50 years ago.
"Some of them haven't even had the chance to have a life, and for as long as we can we will support them and keep their memories alive."
Related Internet Links
The BBC is not responsible for the content of external sites.