Call for rail safety review as overcrowding worsens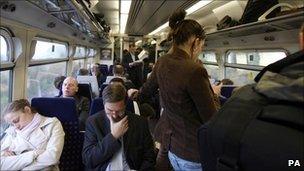 Train passenger safety needs reviewing in light of warnings that overcrowding is set to get much worse, the chairwoman of a Commons committee says.
Louise Ellman, who chairs the transport select committee, is calling for rail health and safety legislation to be looked at again.
She said train passengers were often standing "for far too long".
The Rail Safety and Standards Board, owned by the train operating companies, denied safety was being compromised.
The body admitted overcrowding caused discomfort but insisted it did not affect passenger safety.
The Association of Train Operating Companies (Atoc) said civil servants had become "too involved" in the process of ordering new trains, slowing down the procurement of new stock.
Earlier this week, another committee of MPs warned that overcrowding on trains in England and Wales would get substantially worse over the next four years, despite rises in ticket prices.
The Commons public accounts committee (PAC) said the Department for Transport's own plans suggested targets for increasing passenger places would be missed.
More than one billion train journeys are made in the UK every year and some estimates suggest demand could double by 2035.
Ms Ellman said: "People are standing for far too long on overcrowded trains, in London and the South East and in the north of England.
"It's time the government looked again at legislation regarding health and safety on overcrowded public transport.
"We can't carry on this situation, we need to put the matter right. We cannot ignore the health and safety issues of people jammed together for far too long on our trains."
Bob Crow, leader of the Rail Maritime and Transport union said overcrowding was a safety issue.
"You have got to be a sort of security guard now to make sure that the people are safe. You wouldn't treat cattle like that, yet we treat passengers like that."
Liz Fox, a commuter in Manchester, said overcrowding made her journey to work a nightmare and, on one occasion, the lack of space and air had caused her to pass out.
"Everyone was packed like sardines. I started to get really really hot, so I took off my coat but I started to feel really unwell.
"As we pulled into the station I knew I was going to pass out so I let the passengers know so they had warning of what was going to happen. As the doors opened, I collapsed onto the concrete floor."
Michael Roberts, of Atoc, said the current system of procuring new stock caused overcrowding problems.
He said: "Civil servants have become too involved in the detail of ordering trains. That has slowed down the order of new stock, which would help train companies to relieve overcrowding."
He called for a system in which civil servants agreed a "target level of overcrowding" that a train company awarded a franchise should try to reduce before stepping back from the details to enable the operator to order "the right stock" and run train services in "the right way".
Unlike planes and buses there are no legal restrictions on how packed a train can be.
The Office of Rail Regulation said that, based on existing evidence, it "believes that the current health and safety framework is proportionate to the risk posed by overcrowding on trains.
"We do not believe that there is currently sufficient evidence for introducing new legislation to control overcrowding because of health and safety risks.
"We will, however, continue to review this position in light of all emerging evidence."
The government said it would reveal measures to reduce overcrowding soon, but warned the cost would fall to passengers.
Related Internet Links
The BBC is not responsible for the content of external sites.