Cocaine use higher in England and Wales than Europe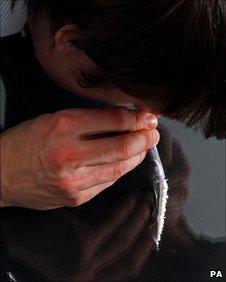 Levels of cocaine use in England and Wales are now the highest in Europe, and among young adults outstrip the US.
The figures come from the annual report of the European Monitoring Centre for Drugs and Drug Addiction (EMCDD).
It reveals 9.4% of people in England and Wales have used cocaine at some time, and 6.2% of 15 to 34-year-olds have used it in the last 12 months.
The EMCDD says there have been "notable increases" in cocaine-related deaths in the past year.
Spain also saw a rise in deaths, although it has slipped back behind England and Wales in terms of overall cocaine use.
The EMCDD says drug users are experiencing more health problems because cocaine is increasingly being cut or mixed with other substances.
Its also says drug traffickers are becoming more sophisticated in the way they import cocaine into Europe, with powder recovered from "carrier materials" such as beeswax, fertiliser, clothing, herbs, plastics and liquids.
"This development is indicative of high levels of innovation and technological sophistication among those importing cocaine into the European Union," the report says.
Cocaine use among those aged 15 to 34 is higher in England and Wales than in the US, Canada and Australia, as well as the rest of Europe.
The EMCDD does not give figures for Scotland and Northern Ireland, but the United Nations' World Drug Report suggested that Scotland's rate of cocaine use among those aged 16 to 60 was among the highest in the world in 2009 at 3.7%.
In comparison, it put England and Wales's rate at 3.0%. The UN's most recent estimate for Northern Ireland - from 2007 - was 1.9%.
So-called "legal highs", including new psychoactive substances, are also highlighted in the EMCDD's report.
It says a record 24 new synthetic drugs were identified for the first time last year in Europe, and by mid-July this year 15 new substances had been detected.
"There is a need to remain vigilant and to be able to respond rapidly to new developments, such as new chemical groups of psychoactive substances identified in 'legal high' products," says the report.
It points out that organised crime groups have recognised the potential of supplying legal highs and consider them to be "attractive alternatives" to controlled drugs.
Crime Prevention Minister James Brokenshire said he was concerned about the high levels of drug abuse and drug-related deaths in the UK, particularly from cocaine.
"We will enhance border security and target the drugs barons through a new National Crime Agency which will include a dedicated Border Police Command," he said.
"A temporary banning system, due next year, will also strengthen our response to emerging drugs.
"Our new approach to treatment will be results driven and set out in a new cross-government Drug Strategy published next month."
The EMCDD has provided drug research for EU countries since 1993. It brings together data gathered on a national basis, via general population surveys, in 30 different states.
Related Internet Links
The BBC is not responsible for the content of external sites.