Newspaper review: Papers worry about PM China visit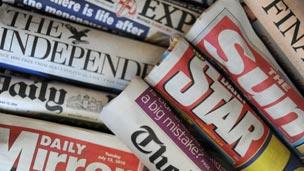 Both papers say they wore their Remembrance Day poppies despite being warned by the Chinese this would stir up unhappy memories of the Opium Wars.
The Independent says the prime minister's speech on Wednesday morning will risk antagonising his hosts.
It says he will criticise their political system.
It says: "The danger is he will not nudge his hosts one iota in the direction of democracy but merely annoy them" to the cost of businesses.
The payment is a bid to avoid protracted deportation battles.
The paper says the coalition government has trebled a cash incentive introduced under Labour and which was criticised by the Conservatives in opposition.
The paper is worried foreign criminals could, in its words, "squander the cash and try to sneak back into Britain".
She says this spiteful attitude is in contrast to the other contestants on BBC One show Strictly Come Dancing.
She declares that, unlike John Sergeant, she will not withdraw from the show, although she "cannot dance for toffee".
Ms Widdecombe explains: "It is rude to the public to walk out if they have voted for you... as long as the public keeps voting I shall keep dancing".
Related Internet Links
The BBC is not responsible for the content of external sites.