Pope 'attack plot' arrests to be reviewed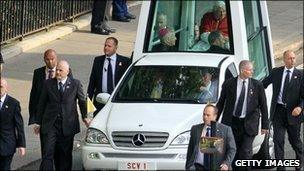 The arrests of six men over an alleged threat to the Pope are to be reviewed by the government's terrorism watchdog.
The men - who worked as street cleaners in Westminster - were arrested during the Pope's UK visit in September.
They were all later released without charge and police sources said they presented "no credible threat".
Home Secretary Theresa May said the outgoing independent reviewer of terror laws, Lord Carlile of Berriew QC, would look at whether the arrests were justified.
The men, aged between 26 and 50, were arrested on suspicion of the commission, preparation or instigation of acts of terrorism on Friday 17 September, the day after Pope Benedict XVI arrived in the UK.
They were employed by Veolia Environment Services, a cleaning company contracted by Westminster Council, and had been overheard in the works canteen apparently plotting an attack.
Armed officers from the Metropolitan Police arrested five of them at the company's depot in west London as they were preparing to go on shift. A sixth man was taken into custody later.
Police also searched eight homes in north and east London and two business premises in central London.
None of the searches revealed any weapons or suspicious materials, and the men were released without charge on Saturday 18 and Sunday 19 September.
At the time, the Met Police refused to confirm reports that the men had been joking, saying they had to investigate what might have been a genuine threat.
The home secretary announced a review of what happened as she named David Anderson QC as the new independent reviewer of UK terrorism legislation.
In a written ministerial statement, Mrs May said he would take up the post in the new year following "a brief review of the arrests (and subsequent release) of six individuals under the Terrorism Act 2000 during the recent state visit to the United Kingdom by the Pope" by Lord Carlile.