7/7 Tube passenger pays tribute to his 'saviour'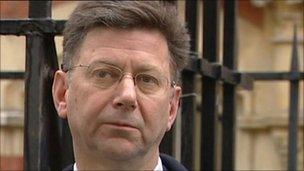 A man caught in the 7 July explosion near Edgware Road Tube station has paid tribute to his "saviour".
David Gardner lost his left leg in the 2005 attacks and he said he was helped by Jason Rennie who made a tourniquet from his shirt to stem the bleeding.
The inquest also heard Mr Rennie had tried to lift Michael Brewster out of a hole in the carriage floor but could not save him.
Mohammad Sidique Khan killed himself and six other people at Edgware Road.
The inquests into the deaths of the 52 victims got under way in October, and are expected to last many months.
Meanwhile, the BBC has learned the government is to appeal against a ruling ordering MI5 evidence to be heard in open at the inquests.
Coroner Lady Justice Hallett ruled last week that she could not exclude the families from the hearings, despite pleas from government lawyers.
Mr Gardner, 55, told the inquest he went on to name his daughter Alice Mary Jane, after Jane Pitkin, the first paramedic to reach him.
He said: "If it was a boy I would have named him Jason."
The inquest, at London's Royal Courts of Justice, heard the two men, both from South Africa, talked and sometimes joked as they waited for the emergency services to arrive.
Mr Gardner, a management accountant at the Evening Standard, said: "I remember him saying my name and my date of birth and myself calling him Jason.
"We flung the names at each other at regular intervals."
Mr Gardner had been due to direct a performance of Julius Caesar and was reading the script when Khan, the plot ringleader, detonated his bomb on the westbound Circle Line.
"I was in a strange way quite calm," he said. "I don't know if it was the Shakespeare which did it."
The play was eventually performed on 7 July 2006 - a year after the bombing - with Mr Rennie in the audience.
Mr Rennie told the inquest he and another passenger had initially tried to help Mr Brewster, a father-of-two from Derby who was known as Stan. He said he had struggled to hoist him out of the crater because of his own wrist injury.
"My foot was slipping on what I noticed was blood," he said.
"That's when we noticed his legs were very, very badly injured. They moved completely unnaturally. He must have been in great pain because he screamed then and we put him back down."
CLICKABLE Find out more about the victims of the Edgware Road bomb attack.
Leaving fellow passenger John McDonald to hold the 53-year-old's hand, he turned his attention to Mr Gardner.
But when he looked back later, he said Mr Brewster had died.
"It's a strange thing to say but you can tell when the lights in someone's eyes have gone out," he said.
"His eyes were open and fixed. He wasn't moving, he didn't appear to be breathing, but I never checked."
The inquest also heard from another passenger, Sandip Meisuria, who climbed through the train's blown-out doors to try to push Mr Brewster back into the carriage.
He said his injuries were more severe than they had first realised and Mr Brewster had died by the time the paramedics arrived.
Mr Rennie, who did 18 months national service in South Africa, remained with Mr Gardner, whose foot "was lying 90 degrees to what would have been normal".
Fearing Mr Gardner would lose dangerous amounts of blood, he made "pads" to slow the flow.
A nurse later inserted a drip and Mr Gardner, who had been drifting in and out of consciousness, was removed from the carriage on a stretcher.
He was taken to St Mary's Hospital in Paddington where he underwent a five and a half hour operation to amputate his leg.
Mr Rennie was himself treated in hospital where he had shrapnel removed from his wrist.
He also suffered a head injury and a perforated eardrum in the explosion.
Coroner Lady Justice Hallett told Mr Rennie: "I suspect your national service training did play a part in your response that day but for the most part it was your strength of character.
"Despite your own injury, you did everything possible to help the dead and the dying and we thank you for that."
Related Internet Links
The BBC is not responsible for the content of external sites.