Tube driver Amir Ali cleared of terrorism charge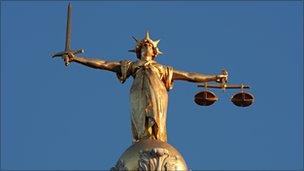 A Tube driver accused of making plans to travel to Afghanistan or Pakistan to take part in a "violent jihad" has been found not guilty of a terrorism charge.
Amir Ali, 28, of Ilford, Essex, was said to have written a farewell letter to his family telling them "Allah and his prophet Mohammed" came first.
But Mr Ali, who worked on the Bakerloo Line, told Snaresbrook Crown Court he had been framed by the authorities.
He denied preparing for terrorism between April 2006 and March 2008.
Mr Ali's acquittal on Monday came at the end of a month-long trial.
The court heard he had bought a ticket for a flight from Heathrow to Islamabad. He had also made two trips to Pakistan - where his grandparents live - in 2007 and 2008.
His claims to have been set up by MI5 or other security staff were disputed by prosecutors during the trial.
Related Internet Links
The BBC is not responsible for the content of external sites.