Newspaper review: Bush reveals his thoughts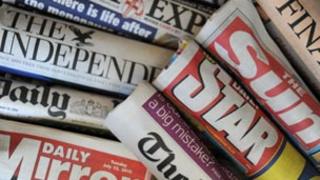 George Bush tells the Times that he does not mind what people think of him.
Rather, he says, his motive for writing his memoirs was to let its readers know what he saw - and what he thought.
There are some regrets, says the newspaper, but no apologies.
And, after spending two hours with the man, the paper's editor compares his outlook on life to the one usually ascribed to supporters of Millwall Football Club: "No-one likes us - we don't care".
'Oddly passive'
An inkling of the task Mr Bush would face if he had believed that his historical reputation would rest on his book can be found elsewhere.
The Independent turns to an American book reviewer who sees Mr Bush as "oddly passive and strangely cavalier".
The Guardian can't help drawing a fierce comparison with Barack Obama.
Obama is a man it judges to be unusually intelligent and Mr Bush, a man it accuses of being "intellectually simplistic".
Religious opinion
The Archbishop of Canterbury is criticised for his attack on plans to cut housing benefit.
The Times says on political issues, his statements display passionate certainty and a lack of thought.
But it commends his comments on Church matters as combining "immense learning with extraordinary generosity".
The Daily Mail wonders why he keeps "almost silent" on religion, but rushes to speak out "when it comes to something he knows little about".
Showbiz tensions
But by no means all of the press is quite so high flown in its coverage.
The Daily Express, the Sun and the Daily Star report on tensions between Take That members which have endangered the reunion with Robbie Williams.
This vies with concerns about the choice of X Factor judge Cheryl Cole not to vote in the latest expulsion of a contestant from the show.
The Sun tells her that her "pay packet dwarfs the earnings of fans" and she owes it to them to make a decision.