7 July bomb attacks inquests: The Aldgate evidence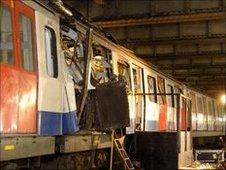 The first part of the inquests into the 7 July bomb attacks in London in 2005 has finished, after a month of hearings into what happened in the wake of the explosion at Aldgate.
The inquests have many more months to run, but a number of key themes have emerged from the frequently harrowing sessions at the Royal Courts of Justice.
Trained in first aid, Mr Desborough went to the wrecked carriage and saw people in terrible pain.
At first, he tried to comfort fatally wounded Richard Ellery, by stroking his back, even though he could not get into the carriage himself.
When he was finally able to climb into the carriage, he found a young woman whom he described as being "bent around a pole".
She was very badly injured and he tried to comfort her too, cradling her head while trying to assist her breathing.
The young woman was Carrie Taylor who later died. Speaking afterwards about Mr Desborough's evidence, Carrie's father, John Taylor, said: "This was the first opportunity to meet him face to face. It was quite emotional for us. Knowing what he did for Carrie gives us some comfort."
Also at the scene was Gerardine Quaghebeur, a doctor who had been travelling on the train. She recalled her frustration during the aftermath as she waited for paramedics to arrive - but she also believed that the care given once people were evacuated was impeccable.
He said firefighters had been held back by bosses who were worried about secondary bombs.
"If there had have been a second device, why leave 500 people just sitting there to take the full brunt of that?" he told the inquests.
CLICKABLE Find out more about the victims of the Aldgate bomb attack.
Lee Baisden
Age: 34
Mr Baisden was standing right next to the bomber Shehzad Tanweer. The accountant worked for the London Fire & Emergency Planning Authority and had recently set up home with his boyfriend, but also spent a lot of time looking after his widowed mother.
He travelled to Liverpool Street from Romford, Essex, and got on the Circle line through Aldgate on his way to work in Westminster.
Richard Gray
Age: 41
Mr Gray was a tax accountant who commuted to London from Ipswich. He was married with two children. One friend described him as "a gentleman of modest disposition, charm, courtesy and subtle humour and above all he was a family man". Mr Gray was standing opposite Shehzad Tanweer.
Anne Moffat
Age: 48
Anne Moffat was head of marketing and communications for Girlguiding UK. She was standing in the middle of the carriage between both sets of doors, close to the bomber. She commuted from Harlow, Essex, to her office in Victoria.A colleague Muriel Dunn said: "Her loss is a terrible tragedy and she will be greatly missed."
Benedetta Ciaccia
Age: 30
The Italian-born business analyst was preparing for her wedding when she was killed at Aldgate. She was standing in the carriageway opposite the bomber and the evidence indicates she died instantly. Her fiancé, Fiaz Bhatti, spent a week on London's streets with a homemade missing person poster, hoping she may have survived.
Richard Ellery
Age: 21
Mr Ellery had recently started working for Jessops Cameras in Ipswich and was in London for a training course. First aiders tried unsuccessfully to save him at the scene. His father, brother and flatmate searched for him in London, until his death was confirmed. The family said he had been "a fun loving boy, full of enthusiasm for life".
Fiona Stevenson
Age: 29
Miss Stevenson was a lawyer on her way to Hammersmith Magistrates Court. Her firm described her as "hard-working, conscientious and supremely able", driven by her determination to represent the weak. She grew up in the Chelmsford area and had friends around the world. Her family said she was passionate about human rights and wanted to work for the United Nations.
Carrie Taylor
Age: 24
Miss Taylor was on her way to work at the RSA. She commuted from Billericay, Essex, with her mother. June Taylor said they would always kiss goodbye at Liverpool Street. Then Miss Taylor would turn and wave until out of view. "I'm so very glad that the last picture I have of her is smiling and waving at me," Mrs Taylor said.
Martine Wiltshire
Age: 38
Paralympic hopeful Martine Wiltshire, nee Wright, was just 6ft from the bomber when the device went off. She lost both legs in the blast. Ms Wiltshire wept as she told how she owed her life to off-duty police officer Elizabeth Kenworthy, who gave her a belt to apply as a tourniquet to stem the bleeding.
Andrew Brown
Age: unknown
Airport worker Andrew Brown, who lost a leg in the bombing, blacked out for 15 minutes after the blast. When he came round he first thought he had been electrocuted, but only realised how badly wounded he was when he tried to stand up to assist others in the train.
Bruce Lait
Age: 29
The professional dancer from Ipswich was sitting with his dance partner further along the carriage from the bomber. He suffered minor burns, cuts and burst eardrums and remains partially deaf. He told the inquest how he held the hand of victim Fiona Stevenson until she died.
Philip Duckworth
Age: 41
The investment banker was so close to Shehzad Tanweer that he was blinded in one eye by a fragment of the bomber's shin-bone. He described how he was thrown onto the tracks by the force of the blast and drifted in and out of consciousness. Coroner Lady Justice Hallett said his was "an astonishing story".
Off-duty Pc Elizabeth Kenworthy joined the rescue from a different part of the train.
She stopped two passengers from bleeding to death - Andrew Brown and Martine Wright. The police officer insisted, as reported in the Daily Telegraph, that she had been capable of nothing more than rudimentary first aid.
Ms Wright said that she could not sum up the depth of her gratitude to Pc Kenworthy, later made an MBE.
"I wouldn't be here, if it were not for her. People like her don't come around a lot," she said.
Bruce Lait, a professional dancer, was on the train with his dance partner, Crystal Main.
Another passenger Colin Pettet helped those around him, including investment banker Philip Duckworth. He was standing so close to the device that he was blinded in one eye by a fragment of bone from the bomber's body.
One of the most important stories from Aldgate came from the driver, Timothy Batkin. He recalled the cries of passengers - but his cab radio had failed in the blast. Luckily, the train was in a near-surface tunnel and he used his mobile to raise the alarm.
But Olanayi Falayi, the station supervisor for Aldgate Station, ignored those orders and ploughed on with the rescue.
David Parnell and Steve Jones were the first paramedics on the scene. They took no medical equipment so they could concentrate on assessing the situation.
Their radios did not work underground and they had to return to the surface to call for more help.
Mr Parnell told the inquest, as reported in the Independent, that time may have been wasted. Mr Jones was carrying special cards used to triage, or prioritise, patients in a massive catastrophe. But he had assumed fully-equipped colleagues would be following close behind him - but they weren't.
Paul Rigby, a divisional officer with the London Fire Brigade, said in his evidence that the sheer volume of people leaving the station hampered the rescue efforts.
He confirmed that there had been delays in dispatching teams to the bombed carriage because firefighters did not know whether the rail was still electrified.
"I can't deal or officers can't deal in supposition," he said. "Imagine the horror: these people have just been through the worst thing possibly they've ever been through in their life. Then to see their rescuers electrocuted as they tried to reach them."
Stephen Smith, then a senior divisional officer in the London Fire Brigade, and since promoted to Deputy Assistant Commander, made notes in the aftermath.
John Taylor, father of Carrie, sat through the first month of evidence.
"We were told that we had the best resilience planning in the world for something like this," he said. "If this was the best resilience plan, I would not want to see the second best."
And Clifford Tibber, one of the solicitors representing families at the inquests, said in an article on his firm's website that the evidence heard in the first weeks had engaged more emotions than in his 26 years of practising law. He said that anyone who doubted the purpose of the inquests should "take a moment to attend and it will all become clear".
The inquests continue for the coming weeks with evidence from the second bomb scene, Edgware Road.
Related Internet Links
The BBC is not responsible for the content of external sites.