Senior Anglicans fly to Rome to escape women bishops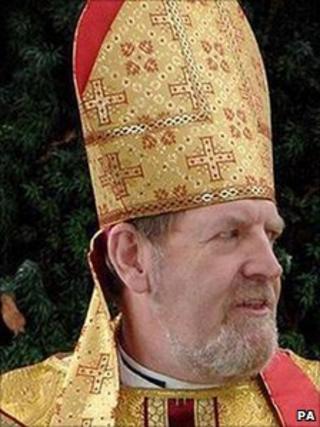 The defection of senior figures such as bishops is always a serious matter for the Church of England.
Bishops have an almost mystical quality as leaders - their authority conferred by the laying of hands from bishop to bishop down the centuries from the time of Jesus and the earliest Church.
The Archbishop of Canterbury Rowan Williams spoke of his "regret" at the decision.
However, the conversion of these five bishops is not unexpected, and will not, in itself, rupture the Church.
Two of them - Edwin Barnes and David Silk - are retired, and the other three - the Bishop of Fulham John Broadhurst, the Bishop of Ebbsfleet Andrew Burnham and the Bishop of Richborough Keith Newton - are so-called "flying bishops".
That means they were specially appointed to care for traditionalist parishes who found it impossible to accept the ordination of women as priests in 1994.
They are assistant - or suffragan - bishops, not among the more senior bishops in charge of dioceses, whose conversion would have been a sign that the move to Rome was going to bite deep into the Church of England.
'Small part'
So why are they going?
The immediate reason is their unhappiness with the way the Church of England is introducing women bishops.
Like most traditionalists on the Catholic wing of the Church of England, they accept that women bishops were inevitable, but they wanted concessions that would allow them to call on a male alternative.
They failed to persuade the Church of England's ruling synod - it voted last July to press ahead with the ordination of women as bishops with minimal concessions to traditionalists.
It decided that there should simply be a code of practice - yet to be written - guiding diocesan bishops in their dealings with parishioners and clergy unwilling to recognise their authority.
Those who support the development stress that only 400 parishes - out of the total of 13,000 in England - have asked for oversight from flying bishops, and insist that a solid majority of Anglicans want women bishops.
Christina Rees of Women and the Church said: "If people want to go to the Roman Catholic Church that's fine, that's their choice. But it's a bit premature, as we don't know entirely the arrangements being made for those who don't accept women bishops. "
However, the bishops said women bishops played only a small part in their decision.
Bishop Andrew Burnham said the development was a symptom of the way the Church of England had departed from the traditions and practices of the Church brought into being by Jesus 2,000 years ago.
"It's about whether the Church of England, as it's always claimed to be, is faithful to the undivided Church of the first thousand years and faithful to its faith and orders - or whether it feels it can make things up and change things as it goes.
"And, increasingly, over the last few years, it has acted as though it is autonomous in these matters and can make things up as it goes - and women bishops is simply the latest example of that."
Different battle
Another of the bishops, Keith Newton, said speculation that he might be appointed to lead the new group, known as the "ordinariate", was unfounded.
Bishop Newton said he expected groups of lay people from a few dozen different congregations, and approximately 50 priests, to join the group initially when it is launched next year.
He acknowledged that clergy would have to make sacrifices, giving up salaries, additions to their pensions and accommodation.
"I will give up being a bishop. I hope I'll be ordained a priest. I'm not sure where I'll be living or how I will be paid. I will be relying on the generosity of the Roman Catholic Church."
Bishop Newton admitted that some would "feel let down, deserted when they need me most".
But he said that he felt his role was as a shepherd, leading from the front and not behind.
It seems most traditionalists on the Catholic wing of the Church of England are prepared to stay.
The Church has managed to combine Protestantism and its own form of Catholicism since the Reformation, and many Anglo-Catholics are determined to preserve this "broad church".
However, divisions between Protestants and Catholic Anglicans have been largely replaced in recent years with another more potent threat.
The most damaging disputes are now between traditionalists and liberals - over women and homosexuality in particular - and the protagonists are in no mood to leave, and give up the Church to the other side.