Newspaper review: Cameron tested ahead of China trip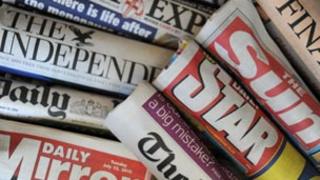 The papers have plenty of advice for Prime Minister David Cameron as he prepares to visit China.
The Independent thinks it would be refreshing to hear some plain-speaking on Beijing's human rights record.
The Times says the PM will be tested on how to deliver awkward messages without provoking anger or sabotaging the broader aims of his visit.
The Daily Telegraph says the fastest route to freedom for the Chinese people is through trade with the West.
'Chump'
The Archbishop of Canterbury Rowan Williams is called "a chump" in the Sun over his comments on benefit cuts.
Mr Williams said plans to force the long-term unemployed to do manual work could drive them into a spiral of despair - a view rejected by the paper.
The Daily Mail says it is precisely the archbishop's spiral of despair that the government is trying to break.
But the Daily Mirror says Mr Cameron will not win a battle with God over his plans to persecute the unemployed.
Navy 'disaster'
The Guardian says government plans to cut welfare bills could lead to a huge migration of benefit recipients from the south of England to the north.
The Daily Telegraph tells us the deputy chairman of the firm building the Royal Navy's two new aircraft carriers called the programme a "disaster".
The head of the World Bank tells the Financial Times gold should again be used as an anchor for currency values.
And the Daily Express claims millions will be forced to work after 70.
Grizzly evidence
The Daily Telegraph reports that one of Google's Street View photos could help solve a crime in Derbyshire.
It shows a picture of a man wearing glasses whom police want to question in connection with the theft of a caravan.
The Guardian claims to have disturbing evidence that the wild and majestic grizzly bear is becoming lazy and fat.
And the Guardian also carries a report on an "English Electric" fridge belonging to a Shropshire family which has been in constant use - since 1947.