Iraqi civilians systematically abused, court hears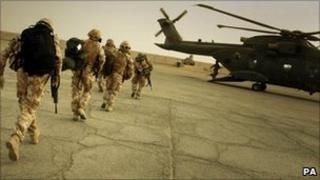 More than 220 Iraqi civilians were subjected to "systemic abuse", including torture, by British soldiers and interrogators in Iraq, the High Court was told on Friday.
Solicitors acting on behalf of the Iraqis submitted video evidence to support their claims.
They are appealing for a judicial review of a refusal by Defence Secretary Liam Fox to order a wide-ranging public inquiry into allegations that abuse was widespread.
A Ministry of Defence (MoD) spokesman said a dedicated team had already been set up to investigate.
The Iraqi civilians complain the abuse occurred during the period from March 2003 to December 2008 in British-controlled detention facilities in Iraq following the war to oust Saddam Hussein.
Allegations of mistreatment include sexual abuse, food, water and sleep deprivation, prolonged solitary confinement, mock executions and being denied clothes.
The High Court application is being made by the Public Interest Lawyers (PIL) group.
Over the past few months, the lawyers have documented a mounting number of complaints.
Michael Fordham QC, appearing for the Iraqis, said: "There are credible allegations of serious, inhumane practices across a whole range of dates and facilities concerning British military detention in Iraq."
Referring to the prison which became notorious for allegations of torture and abuse against US soldiers, he asked: "Is this Britain's Abu Ghraib?"
Effective investigation
A MoD spokesman said: "These remain unproven allegations of mistreatment.
"The MoD takes all allegations seriously and has already set up the dedicated Iraq Historic Allegations Team (IHAT) to investigate them.
"The IHAT is the most effective way of investigating these unproven allegations rather than a costly public inquiry."
Two public inquiries have already been launched into similar claims.
The first inquiry into the death of 26-year-old hotel worker Baha Mousa in UK military custody in September 2003, began hearing evidence last July.
And last November, the MoD announced details of a second public hearing into allegations that 19-year-old Hamid Al-Sweady and up to 19 other Iraqis were unlawfully killed and others ill-treated at a British base in May 2004.
But the PIL group say the two inquiries only cover a fraction of the cases, and that examining the allegations piecemeal would mean that many cases would never see the light of day.
They also argue that the IHAT group - a mixed team of military police and civilian investigators led by a former senior police officer - lacks the necessary independence to carry out a proper investigation.
Speaking before the start of the hearing at London's Law Court, Phil Shiner, who is representing the Iraqis, said it was nonsense to suggest - as he said the MoD did - that abuse had been confined to a "few bad apples".
He added: "That is absolutely not the case. There are very serious allegations related to very troubling systemic abuse."
The hearing is expected to last three days.