Airline pilot shortage facing UK, union Balpa warns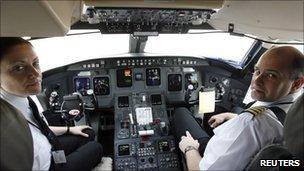 The UK could face a future shortage of airline pilots because of the soaring cost of training, a union has warned.
The British Airline Pilots Association (Balpa) says the number of recruits to flight colleges is falling.
Aspiring pilots can no longer count on airline sponsors to fund costs of up to £100,000 to obtain a commercial licence, it added.
A Balpa campaign is pressing individual airlines to shoulder more of the responsibility for training.
The union says it is now almost impossible for young people from middle- and low-income families to get into the profession.
Most airline training schemes are said to have come to end in the late 1990s and companies also recently stopped paying the cost of obtaining the additional "type rating" licences required to fly specific aircraft.
Capt Mark Searle, Balpa's chairman, said: "Once trainees have their basic licence, they increasingly have to find another £25,000 to £35,000 to pay for the 'privilege' of building their experience at the controls of a big jet and get their type rating.
"This is plain wrong. These young pilots are desperate for a job and are now being charged by airlines to fly fare-paying passengers. Airlines should be ashamed.
"This is also bad economics for the UK. With the economic downturn showing some signs of reversing, Britain's aviation industry is going to wake up with a pilot shortage because of the disgraceful way we have been treating young hopefuls."
Figures from the Civil Aviation Authority show there were some 10,690 pilots and co-pilots employed by UK airlines in 2009.
Pilot Martin Alder, a Balpa member, told the BBC there was a need for about 400 new pilots a year in the UK.
"In the past airlines would offer sponsorship so young people who have the right academic qualifications and aptitude would go along and be tested for their ability to fly and their training would be paid for," he said.
"It would be about a two-year course and then they'd arrive at the airlines and start working for a living, paying back that investment."
Simon Buck, chief executive of the British Air Transport Association, said: "In the current economic climate, many airlines can no longer offer direct sponsorship, but if pilot recruitment becomes a significant problem for UK airlines in the future, this policy may need to be reviewed.
"Currently we are unaware of UK airlines experiencing difficulties in recruiting pilots."
Meanwhile, Dena Dove, from Bournemouth Commercial Flight Training Centre, said the industry had also begun to lobby MPs for aviation training to be exempted from VAT, as is the case for other educational courses.
Related Internet Links
The BBC is not responsible for the content of external sites.