Newspapers consider US mid-terms impact on Obama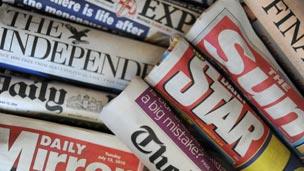 Barack Obama's job may not have been on the line in the US mid-term elections but he is still the focus of most of the attention in the papers.
The conviction of a student who tried to kill MP Stephen Timms makes the Daily Telegraph and Sun front pages.
The paper says a leading economist is warning a full recovery will not take place until banks tackle the problem.
The paper says the disruption is a blow to the exchange's credibility.
Madeleine's parents say totals are down from £2m at its peak to £300,000.
It reports the trailer-mounted device can also tell whether a driver is wearing a seatbelt, identify those with out-of-date tax discs or no insurance and measure tailgating.
Related Internet Links
The BBC is not responsible for the content of external sites.