Can asylum children be removed without being detained?
By Dominic Casciani
BBC News home affairs correspondent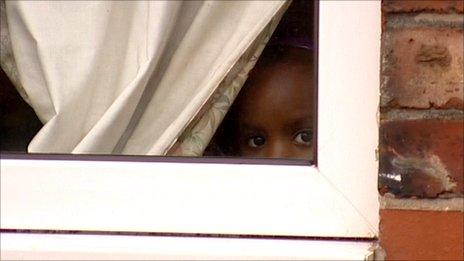 A pilot involving the deportation of failed asylum-seeking families without putting children in detention has seen just one family leave the UK so far. Why is the scheme proving so difficult to implement?
Walking nervously up and down and shivering, Flora Olinyole is waiting for a knock on the door of her Salford home.
The Nigerian mother of three sought asylum in the UK and has been told her application has been rejected. Like many before her - and many who will follow - she faces removal.
Flora says she cannot return to Nigeria because her daughter would be at risk of female genital mutilation. She says her first daughter died after being subjected to the practice and she cannot allow it to happen again.
"Nobody will help me, nobody will protect me," she says, shaking and crying.
"If I go back to Nigeria, my life is not safe, my little girl's life is not safe. I know what I am talking about but the Home Office don't believe me."
I ask her what she has told her three children, aged nine, six and five, about their future.
"When I told them that they wanted to take us back to Nigeria they said, 'Mummy, where is Nigeria?'
"They say to me, 'Mummy, please do not take us back'. And I say it's not me, I want you to have your education here, I have tried my best to let you stay in this country but the immigration people refuse.
"They don't want us to stay. I want to stay, I don't want to depend on benefits, I want to work, work very hard for my children to give them a good education."
Previously, the UK Border Agency (UKBA) would have locked up families like this in an immigration removal centre, to hold them for a flight out of the UK.
The Home Office launched pilot schemes to replace detention - but little has been said about how they have been faring.
Just over 100 families were identified for two non-detention pilot schemes in north-west England and London. Each of the families selected were either failed asylum seekers or other people with no legal right to remain in the UK. It is those pilots that Mrs Olinyole appears to have been part of.
The UKBA invited her to attend a special "family conference" to discuss her case. The draft guidance for these conferences encourages immigration officers to do all they can to reduce a family's anxiety but to accept that they must leave.
She was told it was time to think about leaving - and was given a fortnight to decide how she would go and to begin putting her affairs in order.
If families take no steps to leave, the pilot moves to a second phase called Required Return, where immigration officers serve a departure date.
Mrs Olinyole was waiting for immigration officials to serve that date on her when we visited. Friends and supporters turned out on the street as the hour drew near - but nobody arrived from the UK Border Agency.
The government is still months away from finalising its new removals policy.
But so far the pilots have struggled to enlist the co-operation of almost all those identified for potential removal.
As of early October, nobody had been removed under the key Required Return limb of the pilots.
Two families took a resettlement package. Two others were taken out of the pilots, detained and then removed.
Since the briefing papers were drawn up, one family have been successfully removed under Required Return.
But if families refuse to go, is there any alternative to detention?
Officials are developing proposals called Ensured Return, a package of tougher measures designed to ratchet up the pressure.
A proposed high-level "removals panel" would be empowered to use sanctions that would include electronically tagging a parent, or splitting them up to force them to join deportation flights.
The panel could also order a "limited notice" removal, meaning that a family would be given three weeks' notice of their departure - but not told the precise day of the flight.
The final option is described in the Home Office documents as "non-detained" accommodation.
Families would lose their benefits and housing, and would instead be told to move into managed full-board accommodation near to an airport.
The previous government introduced a policy of halting benefits to try to force failed asylum seekers to leave. But a one-off count by charities last year found 1,200 people were trying to live hand-to-mouth after losing benefits, rather than agreeing to return to their home countries.
So can these proposals create what the government says it wants: efficiency, less detention and, critically, more confidence in the system?
Penny Nichols, of the Children's Society, argues that the government has to look at the entire asylum system.
"One of the difficulties that we have is that many of these families that are subject to removal have not been through a just and fair process right from the outset," says Mrs Nichols.
"Many of them have not had proper contact with UKBA, proper support to understand their situation and to have proper legal advice that would help them to come to proper decisions.
"If the first time that you hear about your immigration claim is by a knock on the door to remove you, that's not a fair process. That leaves families in fear and terror."
The Children's Society and another charity, Bail for Immigration Detainees, say studies of alternatives to detention abroad show that the vast majority of failed asylum families voluntarily leave if their cases are well managed from day one.
"If we don't end up with a system that is fair, we will have no opportunity to end detention of children for immigration purposes," says Mrs Nichols.
"If that does not take place then it's impossible to see this commitment being carried through."
The Home Office will not comment in detail on the pilot schemes, but Immigration Minister Damian Green told the BBC that there had been significant progress and the commitment to end child detention stood.
Families are no longer being detained at the Dungavel removal centre in Lanarkshire - and ministers say the family unit at Yarl's Wood in Bedfordshire will close.
But back in Salford, Flora Olinyole fears time is running out.
"I'm afraid they may come in now and say, 'Flora, we have to take you away now'," she says quietly. "Then I don't have a choice, I have to follow them."
Related Internet Links
The BBC is not responsible for the content of external sites.