Newspaper review: Air freight security in the spotlight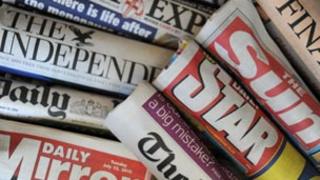 The screening of air freight comes under scrutiny following the discovery of two bombs on US-bound cargo flights.
The Financial Times says it is the "weak link in security" because it is impossible to check every single item.
The Guardian claims passenger jet pilots are "dismayed by the level of security checks they face", believing packages not people should be the focus.
The Daily Mirror says "a patchwork of controls" in different countries leaves cargo flights vulnerable.
Uncle Sam
Several newspaper cartoonists have some fun with the main event in US politics this week.
The Daily Telegraph shows President Obama, sweating profusely, as he tries to disable a ticking bomb, labelled "mid-term elections".
The Times, meanwhile, depicts Uncle Sam, personification of the nation, rubbing an Aladdin-style lamp marked "Tea Party".
"Careful what you wish for!" is the caption underneath.
'Diversity handbook'
The Daily Express wants cash-strapped councils to "cut the bills for political correctness".
Criticising suggestions that street lights should be turned off to save money, it demands that "diversity officers, European compliance staff and climate change campaigners" go instead.
In a similar vein, the Daily Mail is furious at "a risible 300-page 'diversity handbook'" for the Metropolitan Police.
It says the book encourages officers to "pander to followers of witchcraft".
Potato wedges?
Lee Westwood's ascent to the top of golf's world rankings draws widespread praise.
The Independent says the Briton has knocked Tiger Woods off top spot "after a recovery from a mid-career slump" and a lot of work on his fitness.
The Sun says Westwood "was in Sainsburys buying mashed potato" when he found out about his achievement.
"A more grounded world-beater it would be hard to find," agrees Neil Squires, in the Daily Express.