British Legion's Nazi trip revealed in archive photos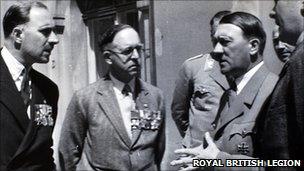 A delegation from the British Legion met Adolf Hitler in July 1935, recently uncovered photographs show.
The 148 images were in a swastika-embossed album found by an employee.
They show British veterans of World War I being saluted by Germans, and delegation leader Maj Francis Fetherston-Godley shaking hands with Hitler's deputy Rudolph Hess.
A concentration camp visit was not photographed, but details were included in the Legion's archive.
Legion press officer Liam Maguire, writing in the Daily Mail, said he could barely believe his eyes when he looked at the "huge, thick, hard-backed, red book - with a metal swastika on the front."
He found the album in the Legion's headquarters in London as he was researching a documentary.
The album, with images that he described as likely to "shock many", was given by the Third Reich as a souvenir of the trip.
The five members of the Legion (now known as the Royal British Legion) met Hermann Goering, head of the Luftwaffe.
There were photos of German ex-servicemen in wheelchairs giving Nazi salutes as the delegation parade passed with the Union flag, and pictures of the delegation at Commonwealth war graves in Germany.
Mr Maguire wrote: "However, there is one part of the trip that was not recorded in the album, but which has been documented in the Legion archives - the delegation's visit to the first Nazi concentration camp at Dachau.
"The archives show that they viewed solitary confinement cells. At the time Jews were already being imprisoned there - 'returned emigrant Jews under observation' say the Legion records, along with the 'workshy', 'professionally criminal' and 'moral perverts'."
Some of the delegation also had dinner with Heinrich Himmler, who set up the concentration camp and was head of the SS.
The delegation's arrival involved thousands of people lining the streets in Berlin - an event which German historians have suggested was stage managed, Mr Maguire said.
There was also concern back in Britain that the visit would be used as propaganda by Germany.
Footage of the trip was also uncovered by researchers working on a documentary for Discovery History.
According to the Legion, the trip was made to "foster close relations with German veteran organisations and promote peace. There was a desperate desire amongst the people of Europe that the Great War must never be repeated, and veterans particularly believed they had a role to play in the preservation of peace."
A reciprocal visit was made by 800 German ex-servicemen to Britain in September 1938 - on the day then-Prime Minister Neville Chamberlain flew out to meet Hitler in his failed bid to negotiate a peace.
Footage of the German visit to London includes rare film archive of the visitors giving a Nazi salute during a pleasure boat trip up the River Thames.
Related Internet Links
The BBC is not responsible for the content of external sites.