Indefinite jail sentences 'harm' inmates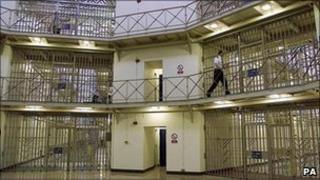 A leading barrister has voiced his support for reviewing the sentences of prisoners held indefinitely for "public protection".
Bar Council member Peter Lodder QC said there was a risk of mental harm to prisoners who had served their minimum terms but were still in jail.
This month the Prison Governors Association called for the quick release of 2,500 of the prisoners.
The Ministry of Justice said it was reviewing the tariff.
Prisoners jailed under the indeterminate sentence of Imprisonment for Public Protection (IPP) have no automatic right to be released.
There were 2,468 IPP prisoners as of 19 January this year, according to ministry figures.
The sentencing option was introduced in 2005. Under an IPP, offenders convicted of a wide range of offences are given a minimum tariff.
However, they must take courses and undergo assessments to prove they are no longer a danger to the public before they can be released.
Mr Lodder, chairman-elect of the Bar Council, said there were fears prisoners could face a "Kafkaesque" situation where they had no idea when they would be released.
Brewing resentment
Speaking to the Observer, he said that the growing numbers placed on indeterminate sentences threatened the running of prisons as such prisoners became resentful and frustrated.
"One can see how for prisoners in this situation, where there is no light at the end of the tunnel, there is little incentive and a great deal of frustration, and that is what leads to the harm to emotional and mental wellbeing," Mr Lodder said.
"If you have an ordinary sentence - a determinate sentence - then one half of that sentence will not be served upon the basis that you are well behaved. That is an understanding - a contract - that makes sure prisons run smoothly. On these [indeterminate] sentences, there is no such provision."
Mr Lodder said: "When you disenfranchise people to such a significant extent... you are bound to create a resentment."
He said the government should make parole reviews happen quickly for prisoners serving IPP sentences.
"The government needs to accelerate the parole reviews for prisoners in this situation. [It] needs to consider whether once these prisoners have served the minimum term they can be released, and what appropriate and speedy mechanism there can be to facilitate that," he said.
The Ministry of Justice said it was assessing all sentencing, including IPPs.
A spokeswoman said: "There is no question that we must protect the public from the most dangerous criminals in our society. However, we must also ensure the courts have the power to make the right response to stop people committing crime."
The Prison Governors Association earlier said the sentences were unjust and all but those still presenting a high risk of harm to the public should be freed.