Clocks go back at end of British Summer Time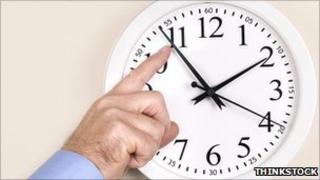 Many people in the UK have been able to enjoy an extra hour in bed after the clocks went back an hour to mark the end of British Summer Time (BST).
At 0200 on Sunday, the clocks sprang back to 0100 to mark the return of Greenwich Mean Time.
The change will mean darker evenings, which will remain until the clocks are put forward again on 27 March.
Debate has raged for years over whether Britain should keep BST all year but several campaigns by MPs have failed.
London Mayor Boris Johnson says it is "barmy" not to follow much of Europe in setting clocks an hour ahead of GMT in winter and that the capital is missing out on millions of pounds in income from tourism.
The Policy Studies Institute says an extra hour of evening daylight would give people more opportunities to be active outdoors, helping them to become healthier.
Meanwhile, a study for the 10:10 climate campaign in June suggested putting clocks forward during winter to an hour ahead of GMT could save almost 500,000 tonnes of CO2.
A three-year experiment to keep BST all year took place between 1968 and 1971.
The Department for Transport's initial analysis of road casualty data estimated a net reduction of 2,700 people killed or seriously injured during the first two years of the experiment.
However, it is often argued that the move would plunge much of Scotland into darkness, with some areas not getting light until 1000. It is opposed by both the SNP government and the Scottish Office.
Despite this, a study of some 3,000 Scots by energy provider Npower has found 53% of respondents in favour of the idea, with 35% against and 12% undecided.