Minister hails Japan care scheme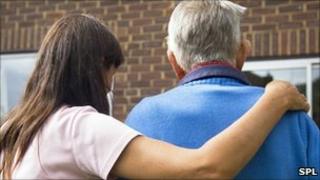 A scheme that rewards people with "time credits" for volunteering to help the elderly or disabled has been praised by a government minister.
The system already operates in Japan where people can claim back the credits for their own care in later life.
Care services minister Paul Burstow says such a scheme can help vulnerable people maintain their independence.
The Department of Health said the government was not currently considering a similar system.
In Japan, the system, called Hureai Kippu, was established in 1991 and has been expanding ever since as a way of helping to manage the country's rapidly ageing population.
Literally translated as "Caring Relationship Tickets", it allows a volunteer to "bank" the hours they spend helping an elderly or disabled person in their personal Time Account.
Different values apply to different kinds of tasks. For instance, more credit is given for helping at anti-social hours or with personal body care. Household chores and shopping command less.
These healthcare credits are guaranteed to be available to the volunteers themselves later in life, or to someone else in need, within or outside their family.
The local and national government has even set up a nationwide electronic clearing network, so that a person can provide help in Tokyo, while their time credits are available to their parents anywhere else in the country.
'Effective way'
In this country, Windsor and Maidenhead Council in Berkshire is thinking of extending the idea behind its recycling "reward" scheme to people who volunteer to work in social care.
Mr Burstow said: "What they do in Japan is effectively a way of people sharing their time and giving of their time to make a difference for people in different parts of the country.
"We have some of those schemes here in the UK, such as time banks, and what we are doing is making sure we take some of those lessons learnt in Japan and transfer them to our own domestic circumstances."
Voluntary groups say they welcome moves that encourage people to get involved in society, but warn that rewarding for voluntary work undermines the idea of giving your time freely.
Sir Stuart Etherington, chief executive of the National Council for Voluntary Organisations, said: "People already have a right to care in old age and the idea that you're going to get it sort of topped-up if you volunteer when you're younger strikes me as slightly odd. These things should be provided by the state."
An independent commission is currently looking at how care and support should be funded in the future and will report to the government by next July.