Military prosecutions for Iraq torture 'if evidence'
By Joshua Rozenberg
BBC Radio 4, Law in Action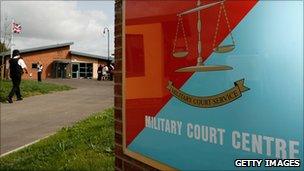 Commanding officers may be charged with failing to prevent the abuse of Iraqi detainees if evidence comes to light.
Britain's senior military prosecutor told the BBC that any charges would not be confined to the lower ranks.
This week, lawyers for 140 Iraqis will ask the High Court to order a public inquiry into allegations of "systemic abuse".
But the Ministry of Defence (MoD) says all allegations are investigated and there is no need for an inquiry.
Despite widespread allegations of abuse in Iraq between March 2003 and December 2008, no officer has been convicted.
So far, for all the allegations made in Iraq, only a handful of prosecutions have been brought against troops accused of mistreating Iraqi civilians, such as Baha Mousa, the Iraqi hotel receptionist who died in British military custody in 2003.
The promise to bring charges against senior officers for failing to prevent abuse of Iraqis detained for interrogation came from Bruce Houlder QC, who is director of service prosecutions.
He heads the Service Prosecuting Authority, the military equivalent of the Crown Prosecution Service.
Mr Houlder told BBC Radio 4's Law in Action that if he were presented with evidence of abuse by individual soldiers he would look to see whether it was part of a wider pattern.
If, he said, there were "cases of widespread abuse, over a long period of time, one would need… to ask the question: why didn't this ever come to an end? Why did it go on, if that be the case?
"And the usual answer would be: it was because someone was not stopping it, who had the power to stop it."
The 140 Iraqis who are taking the Ministry of Defence to court this week allege they suffered ill-treatment including sensory deprivation, being deprived of food, water and sleep, forced nakedness and sexual humiliation.
Their lawyer, Phil Shiner, doubted whether there would be many criminal prosecutions, if any, because evidence was not gathered at the time.
It would be far better, he said, to have a public inquiry that could put an end to systemic abuse by ensuring that the Army had proper interrogation policies and proper training in future.
The Ministry of Defence said it did not recognise Mr Shiner's allegations of systemic abuse.
"There is no place for mistreatment of detainees and we investigate any allegation made against our troops," a spokesman said.
In court on Friday, the MoD will argue that it should not be ordered to set up an inquiry.
"A costly public inquiry would be unable to investigate individual criminal behaviour or impose punishments," said Defence Minister Nick Harvey.
"Any such inquiry would arguably therefore not be in the best interests of the individual complainants who have raised these allegations."
Even so, Mr Harvey said the government had not ruled out holding a public inquiry at some point in the future.
That would depend on the findings of a two-year police inquiry that was now getting under way.
The minister said a public inquiry would be considered if "serious and systemic issues emerge from IHAT's investigations that might justify it".
Related Internet Links
The BBC is not responsible for the content of external sites.