Titanic survivor story published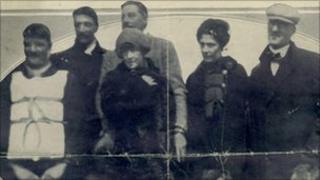 A woman's account of escaping the sinking Titanic in 1912 has been published for the first time.
Laura Francatelli from London said she heard an "awful rumbling" as the liner went down and "then came screams and cries" from 1,500 drowning passengers.
Her account was recorded in a signed affidavit for the official British inquiry into the disaster.
The historic document is expected to sell for up to £15,000 when it is auctioned in Wiltshire on 16 October.
Miss Francatelli, who was 31 at the time, was travelling with baronet Sir Cosmo Duff-Gordon and his wife Lady Lucy Christiana, as his secretary.
The account describes how they boarded one of the last lifeboats containing just five passengers and seven crew, admitting they did not consider going back for survivors.
'We're sinking'
Sir Cosmo later paid the crew members £5 each - now worth about £300 - which some have described as blood money for saving their lives.
Miss Francatelli said she woke her employers when water seeped into her cabin after the liner struck an iceberg the night of 14 April.
She wrote: "A man came to me and put a life preserver on me assuring me it was only taking precautions and not to be alarmed.
"When we got on the top deck, the lifeboats were being lowered on the starboard side.
"I then noticed that the sea was nearer to us than during the day, and I said to Sir Cosmo Duff Gordon 'We are sinking' and he said 'Nonsense, come away'."
The group refused to go into a lifeboat at first as Sir Cosmo was not allowed on, as they were designated for women and children only. But they were then offered places on a smaller rowing boat.
"There were no other women there by that time. The officer saw us and ordered us in, and we said we would go if Sir Cosmo could come also," Miss Francatelli said.
"Just as they were lowering the boat, two American gentlemen came along the deck and got in also. The officers gave orders to us to row away from ship."
She said they "were a long way off" when they saw the Titanic go right up at the back and plunge down.
"There was an awful rumbling when she went. Then came the screams and cries. I do not know how long they lasted.
"We had hardly any talk. The men spoke about God and prayers and wives. We were all in the darkness."
She wrote how the survivors huddled in the bottom of the boat to keep warm until they were rescued two hours after the sinking by the ship Carpathia.
Miss Francatelli died in 1967. The document remained in her family until after her death and has since been owned by two private collectors.
The auction is being conducted by Henry Aldridge and Son, of Devizes, Wiltshire.