First Choice holiday firm sued over illnesses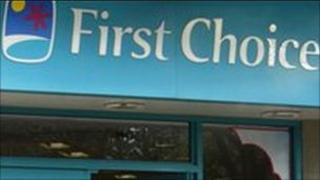 Nearly 300 holidaymakers who suffered "nightmare" stays at a Bulgarian hotel have begun legal action for damages.
The clients are suing tour operator First Choice after suffering severe gastric illness at the Royal Park Hotel between June and October 2008.
Law firm Irwin Mitchell, representing the 276 clients, said First Choice had continued to deny liability.
But First Choice said it had been liaising with them with a view to reaching an "amicable agreement".
Clive Garner, who heads Irwin Mitchell's travel law team said: "Many of our nearly 300 clients suffered severe illness at this hotel with some suffering Shigella, an illness which can have fatal consequences.
'Dialogue ongoing'
"Many of our clients have told us that they were unable to obtain medical treatment in resort as the queues at the clinic were so long because of the number of guests seeking medical treatment for illness. Around 40 of our clients also had to seek hospital treatment on their return home."
The law firm has already recovered a substantial settlement for a further 95 holidaymakers who fell ill at the resort in 2004, 2005 and 2007. This latest action has been launched in the High Court.
A spokesman for First Choice said the company had stopped offering stays at the Royal Park Hotel.
He added: "Contrary to the law firm's allegations, First Choice have been liaising with them with a view to reaching an amicable agreement for all involved.
"As our dialogue is ongoing, we do not feel that it would be appropriate on our part to comment any further on this particular case.
"However, First Choice would like to take this opportunity to assure all its customers that we closely audit all the hotels to which we operate to ensure that health, safety, hygiene and comfort levels are maintained."