Families of Nimrod crash victims receive compensation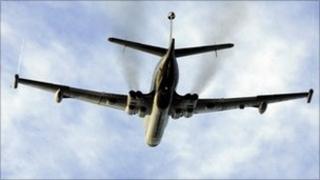 Several relatives claiming compensation after 14 servicemen were killed in a Nimrod plane explosion in Afghanistan have received payouts, the MoD says.
The amount of money paid was not disclosed but was paid over the past few weeks and months.
The payout came two years after the families launched a legal action.
Earlier reports that all cases had been settled have since been denied, with one law firm saying it still has claims outstanding, which the MoD confirmed.
In most cases several family members are making a claim, and in some families not all relatives have settled with the MoD. Cases relating to three servicemen have yet to be concluded.
The amount paid out so far was said be in the region of £15m, according to the Mail on Sunday newspaper.
An MoD spokesman said it passed on its "sincere condolences" to the families of those killed in the 2006 incident, and said compensation had been paid to help "ensure their future financial security".
"When compensation claims are submitted, they are considered on the basis of whether or not the Ministry of Defence has a legal liability to pay compensation. Where there is a legal liability to pay compensation we do so."
A spokesman for law firm Balfour and Manson, which represented members of 12 of the families, said compensation could "never replace a loved one" but provided some financial security.
Another law firm said family members of two of the victims were continuing civil claims for compensation, with two trials due to take place later this month and next month at the High Court in Edinburgh.
Irwin Mitchell said they were representing the mother and father of L/Cpl Oliver Dicketts and the mother and sister of Royal Marine Joseph Windall.
Hot air pipe
The MoD was heavily criticised over the incident at an inquest in 2008 and last year an independent review accused the MoD of sacrificing safety to cut costs.
In May 2008, a coroner ruled the Nimrod fleet, based at RAF Kinloss in Moray, had never been airworthy.
The government at the time refused to agree with the coroner's recommendation that the entire Nimrod fleet be grounded.
According to the MoD, new procedures meant the Nimrod aircraft was safe. Air-to-air refuelling was stopped, as were the use of very hot air systems in flight.
"Enhanced" aircraft maintenance and inspection procedures were also introduced by the MoD.
The Nimrod spy plane exploded on 2 September 2006, shortly after undergoing air-to-air refuelling.
The blast was caused by fuel leaking into a dry bay and igniting on contact with a hot air pipe.
'Lamentable job'
The 14 men killed on the Nimrod were:
Flt Lt Steven Johnson, 38, from Collingham, Nottinghamshire, Flt Lt Leigh Anthony Mitchelmore, 28, from Bournemouth, Dorset, Flt Lt Gareth Rodney Nicholas, 40, from Redruth, Cornwall, Flt Lt Allan James Squires, 39, from Clatterbridge, Merseyside and Flt Lt Steven Swarbrick, 28, from Liverpool.
Flt Sgt Gary Wayne Andrews, 48, from Tankerton, Kent, Flt Sgt Stephen Beattie, 42, from Dundee, Flt Sgt Gerard Martin Bell, 48, from Newport, Shropshire, and Flt Sgt Adrian Davies, 49, from Amersham, Buckinghamshire, Sgt Benjamin James Knight, 25, from Bridgwater, Sgt John Joseph Langton, 29,from Liverpool and Sgt Gary Paul Quilliam, 42, from Manchester.
L/Cpl Oliver Simon Dicketts, of the Parachute Regiment, from Wadhurst and Royal Marine Joseph David Windall, 22, from Hazlemere.
An independent review, which reported its findings in October 2009, concluded that the crash was preventable.
The highly critical report, by Charles Haddon-Cave QC, said the Afghanistan crash occurred because of a "systemic breach" of the military covenant, under which Britain has a duty of care to its armed forces.
He also branded the safety review of the Nimrod MR2 carried out by the MoD, BAE Systems and QinetiQ as a "lamentable job".