Newspaper review: Papers focus on Tory conference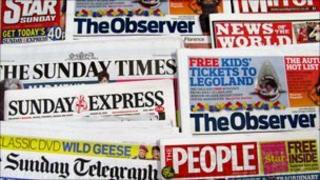 With the Conservatives about to start their annual party conference in Birmingham, much of the questioning is about cutting the deficit.
"Look," Environment Secretary Caroline Spelman tells the Independent on Sunday, "who wants to make cuts? It's not anyone's idea of fun."
Chancellor George Osborne in the Mail on Sunday seems keen to suggest nothing is too small to escape his notice.
It comes as he expands on his argument that Labour showed a "cavalier disregard" for using public money.
Mr Osborne says he will not be getting the Treasury to pay for the Christmas tree in Number 11 - he will buy one himself from a local market.
But, as everyone is aware, savings of that kind will not do the job - and most eyes are on the cost of benefits.
'Bureaucratic nightmare'
The Sunday Times points out that welfare payments now amount to nearly a third of all government spending, and the regulations that control them run to more than 10,000 pages, it adds.
The People calls the benefits system a "bureaucratic nightmare riddled with fraud and error".
It predicts that planned changes will leave "no hiding place" for cheats.
But the Sunday Mirror says ministers are planning a "snooper's charter".
But the politicians do not just face questions about the big issues these days.
They must also, like David Cameron in the Sunday Telegraph, own up to what is on their iPod.
Unaffordable homes
The News of the World eyes economics through radio and television soaps.
The paper has noticed that only 22 of the 52 characters in the Archers could afford to live in Ambridge, and nine of the 10 main characters in Eastenders did not earn enough for the Square.
The Observer reports that Hitler's foreign minister Joachim von Ribbentrop planned to retire to Cornwall after a successful invasion of Britain.
The finding was revealed by research for an art exhibition, it explains.