Newspaper review: Police and teachers in focus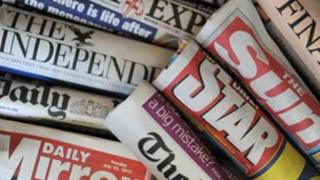 The Daily Telegraph reports that police officers could be given the right to strike for the first time in 90 years.
This would be in return for sacrificing their lucrative overtime payments and bonuses, the paper says.
The Guardian reports that so-called "no touch" rules discouraging teachers from restraining or comforting schoolchildren are to be abolished.
Education Secretary Michael Gove says he will also give teachers a right to anonymity over allegations by pupils.
Tax moves
The Times looks ahead to the Conservative Party conference.
It says Tory chiefs are "ratcheting up the rhetoric" as they fear voters are not fully prepared for the scale of the £83bn of cuts soon to be announced.
The Financial Times reports that the UK is set to lose hundreds of millions of pounds in tax revenues every year as top hedge fund managers move overseas.
The paper says an estimated one in four hedge fund employees has left London to move to Switzerland for tax reasons.
Legal action
The Daily Mail speculates whether new equality laws will lead to the "death of the office joke".
The paper warns that under the legal concept of "third party harassment", workers will be able to sue over jokes and banter they find offensive.
That is even if the comments were aimed at someone else and the complainant was not present when they were made.
The paper is concerned that just one incident could be sufficient to trigger legal action.
Rain delays
Images from the virtual washout on the first day of golf's Ryder Cup in south Wales make it onto the news pages.
Under the headline "Squeegee Ryder", the Daily Mirror says the Celtic Manor course looked more like Glastonbury.
Some of the world's top players found their first formidable opponent in the shape of the British weather, it adds.
The Sun has a picture Tweeted by Ian Poulter of team-mate Padraig Harrington having a snooze while waiting for play, calling it "The Ryder Kip".