Huge Taliban bomb killed three UK soldiers in Helmand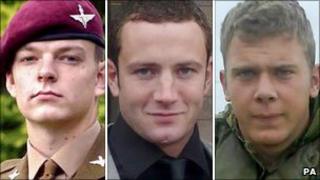 Three paratroops were killed almost instantly when a huge bomb blasted their armoured vehicle in Afghanistan last year, an inquest has heard.
The men's bodies were found scattered around the blast site north of Lashkar Gah in Helmand province on 6 August.
They were Cpl Kevin Mulligan, 26, of Alloa, L/Cpl Dale Hopkins, 23, of Redditch, and Pte Kyle Adams, 21, of Croesyceiliog, Torfaen.
Coroner David Ridley recorded a verdict of unlawful killing on active service.
Special forces
The three members of the Parachute Regiment were on a routine patrol with Afghan forces when their Jackal vehicle was hit as it entered a village.
It is understood they were part of the Special Forces Support Group (SFSG), which backs up UK special forces missions.
Lt Col Freddie Kemp, a Parachute Regiment officer attached to the defence inquest unit, told the hearing the Jackal was the lead vehicle in a convoy.
Cpl Mulligan was driving, L/Cpl Hopkins was in the passenger seat and Pte Adams was operating the weapons system, the inquest heard.
Another soldier who was not seriously injured was in the rear of the vehicle.
Lt Col Kemp said after the Improvised Explosive Device (IED) detonated, colleagues came under small arms fire from insurgents as they made their way to the blast site.
An Apache helicopter was called to clear them out and allow for a medical evacuation.
Pte Adams was found at the scene and L/Cpl Hopkins about 130ft (40m) away. Both were airlifted to Camp bastion where they were declared dead shortly after arrival.
It was only after the evacuation that Cpl Mulligan's body was found 33ft (10m) further away from where L/Cpl Hopkins was found.
"The site was examined by a US ordnance disposal team who confirmed the device had been an IED containing 100kg of home-made explosive," Lt Col Kemp said.
A post-mortem examination found Cpl Mulligan and L/Cpl Hopkins died from blast injuries and Pte Adams from head injuries.
"If it is any words of comfort, given the nature of these injuries, they would have become unconscious almost immediately and unaware," Wiltshire and Swindon Coroner Mr Ridley said.
The families of all three soldiers attended the inquest at Trowbridge Civic Hall.
After the hearing, Lt Col Kemp read statements on behalf of the families.
The family of father-to-be Cpl Mulligan said: "We are devastated. Our lives will never be the same again. We miss him and will always love him."
L/Cpl Hopkins' family said: "Dale will be sorely missed, not just by his family but also by the very many people that knew him."
And Pte Adams' family said: "Kyle had a way of making you smile by just the way he looked at you... even one year on, the pain and grief of losing Kyle is still so sore."