Newspaper review: Times says welfare deal is done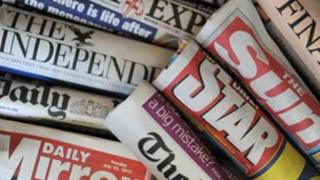 Bonfire of the benefits is how the Times describes the government's plans to scrap traditional welfare payments.
On its front page, the paper says housing benefit and income support will be replaced by a "universal credit".
Claimants will receive amounts according to their circumstances, and those who get jobs will be allowed to keep more of their benefits.
The system, the paper concludes, is a major victory for Work and Pensions Secretary Iain Duncan Smith, who has faced opposition from the Treasury, which argued that such a wholesale reform would cost too much at a time when budgets were being cut.
Left wing
The Daily Mail congratulates the BBC journalists who have expressed concern about plans to strike next week during the Conservative party conference.
It says the timing "plays into the hands" of those who feel that the majority of BBC staff are left-wing.
The Daily Express warns millions of women are at greater risk of developing breast cancer because of chemicals in household goods, foods and cosmetics.
It blames these substances for what it calls a "dramatic increase" in breast cancer since the 1930s.
'Class act'
Many papers reflect on the life of actor Tony Curtis, who died on Wednesday aged 85.
Calling him "the Elvis of Tinsel Town", the Daily Mirror says he was the first rock 'n' roll film star.
The Sun's verdict is that Tony Curtis was "a class act", a "master of both comedy and drama".
He always regarded himself as lucky to have broken into the film industry, according to the Independent, and never missed an opportunity to enjoy the pleasures it offered, either on or off the screen.
DIY Dalek
The Guardian warns the UK is facing what it calls a "new brain drain".
It reports that leading scientists are leaving the country because they are concerned research budgets will be slashed as a result of government cuts.
The Daily Telegraph sheds light on the origins of one of Doctor Who's arch enemies - the Daleks.
It says original BBC blueprints show that all you need to construct your own is some pieces of wood, some modelling clay, acrylic sheets and some aluminium mesh.