Fisher-Price recalls highchairs and toys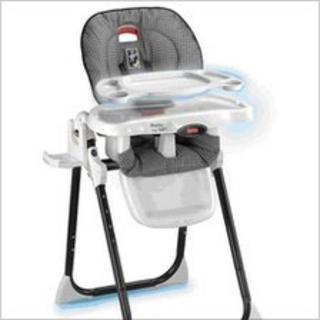 Thousands of high chairs and toys sold in the UK have been recalled by Fisher-Price over safety concerns.
It is part of a wider US-led recall of more than 10 million products following reports of injuries.
The UK recall of 72,763 high chairs follows 14 reports of problems in the US, including seven children who needed stitches.
Products with inflatable balls have also been recalled following 50 reports of valves coming off.
The list of UK products which have been recalled has been issued by parent company Mattel.
The UK highchairs affected are the Basic Healthy Care Cow over the Moon, Flutterby Dream, Aquarium Healthy Care, 3-in-1 High Chair to Booster and Link Deluxe Healthy Care.
About 72,763 of the chairs were sold in the UK between September 2001 and August 2010.
'Overwhelmingly safe'
Children could fall on pegs on the back of the high chairs, designed to store the tray, resulting in cuts and other injuries, the US Consumer Product Safety Commission (CPSC) said.
Some 165,090 products with inflatable balls have also been recalled in the UK after the CPSC said the valve of the ball could pose a choking hazard.
The products include the Baby Playzone Crawl and Cruise Playground, Baby Playzone Crawl and Slide Arcade, Baby Gymtastics Play Wall, Ocean Wonders Kick and Crawl Aquarium, 1-2-3 Tetherball and the Bat and Score Goal. All the items were sold between July 2001 and July 2008.
A further 6,107 Little People Wheelies Stand 'n' Play Rampway toys sold between April and September 2010 have also been recalled after reports that the wheels on the cars could come off, posing a choking hazard.
A UK spokeswoman for Fisher-Price said: "We want to reassure parents that our products are overwhelmingly safe. We operate in a highly regulated industry and we test our products at many stages during development and production. Our product engineers have many years of experience in designing safe toys.
"In addition, we monitor parents' safety-related reports over time. If we see an issue with a product at any point, even after many have been sold and used safely, we take appropriate action.
"Our actions reflect our continuing commitment to the safety of our products. Hundreds of millions of our products are used safely every day and we believe these simple fixes will continue that excellent record."
Fisher-Price has set up a consumer helpline on 0800 0320 615 to provide further information.