'Jesus' Easter egg launched in UK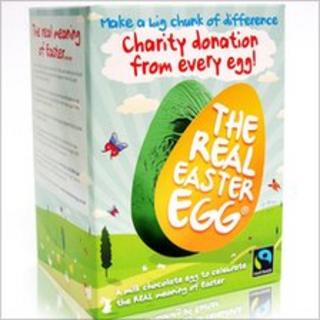 The Church of England is launching its own Easter eggs to explain the Christian understanding of Easter.
The Real Easter Egg, said to be the first egg to mention Jesus on the packaging, will go on sale next year.
It will be made from Fairtrade chocolate and donations from its profits will be made to two charities, Baby Lifeline and Traidcraft.
Nearly 8,000 church schools are being encouraged to place orders for the eggs before 1 December.
Its creators hope teaching staff will use the eggs early to teach about citizenship, the meaning of Easter, the role of Fairtrade and the place of charitable giving.
A donation from the £3.99 recommended retail price will be made to Baby Lifeline, which supports mothers and newborn babies in the UK, and development charity Traidcraft, which aids small-scale farmers and producers.
The Bishop of Manchester, the Right Reverend Nigel McCulloch, said: "I believe there will be widespread support for the product from the faith community with many others likely to be interested.
"We hope that all our supermarkets will stock the first and only Easter egg in the UK that explains the significance of Easter and, through the charitable donation, brings to light the Easter themes of hope and new life."
Over 80 million chocolate Easter eggs are sold each year in the UK. Traditionally, eggs were used to symbolise rebirth and new life.
The Real Easter Egg has been developed by Manchester-based The Meaningful Chocolate Company, working in consultation with a number of churches and dioceses.