Newspaper review: Miliband's backbench retreat lamented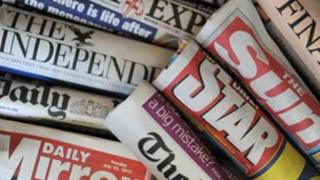 David Miliband's face adorns many of the front pages as he bows out of front-line politics after losing the Labour leadership to his brother Ed.
The Daily Mail says it deprives Labour of one of its biggest beasts, while the Daily Express says he was one of its most articulate moderate voices.
He joins the list of best leaders Labour never had, says the Guardian.
The Times describes Mr Miliband as Labour's brightest star and it has the headline, "Labour's lost leader".
Step aside?
The Daily Mail points to a "second family crisis" within Labour as both Ed Balls and his wife, Yvette Cooper, are contenders for shadow chancellor.
According to the paper, Ed Miliband is lining up Ms Cooper for the job.
The Independent asks if she would step aside to allow her husband to take the job he craves.
The Financial Times says Mr Miliband would have to weigh up the domestic and political ramifications of promoting Ms Cooper to a job coveted by her husband.
'Hysterical' opposition
The Daily Telegraph says the prime minister is on a collision course with the armed forces, after Liam Fox's protest against "draconian" cuts in defence spending.
According to the paper, senior military commanders are privately pleased by the defence secretary's leaked letter to David Cameron warning against cuts.
But the Daily Express says Dr Fox has made a fool of himself with his "hysterical" opposition.
The Guardian says it is entirely possible for the MoD to save £4bn.
Home of scooters
The Daily Mail leads with a report that customers are making more than 7,000 complaints against the banks every day.
It says about 1.3 million have been logged over the past six months about sloppy service, poor advice or the mis-selling of financial products.
The Daily Telegraph says a series of light-hearted travel guides has offended the Italians.
The paper reports the tourism minister wants them banned because the country is described as the home of "pizza, the Mafia and scooters".