Actress Emma Thompson attacks use of sloppy language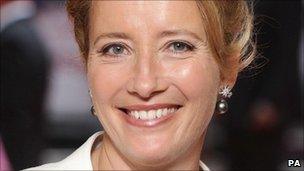 Actress Emma Thompson has spoken out against the use of sloppy language.
The 51-year-old Oscar winner told the Radio Times that people who did not speak properly made her feel "insane".
She said: "We have to reinvest, I think, in the idea of articulacy as a form of personal human freedom and power."
Ms Thompson added that on a visit to her old school she told pupils not to use slang words such as "likes" and "innit".
"I told them, 'Just don't do it. Because it makes you sound stupid and you're not stupid."'
She said: "There is the necessity to have two languages - one that you use with your mates and the other that you need in any official capacity."
Responding to her comments, English language specialist Prof Clive Upton, from the University of Leeds, said that "street speak" was not necessarily a problem.
He said: "There are certain places where the sort of street speak which a lot of teenagers go in for just doesn't cut the mustard.
"If they do deploy the sort of language they're using on the streets in formal settings then it could well be a disadvantage to them but at other times it's quite clearly the way they get along, the way that they signal they belong in a group, the way that they fit in.
"And we all do that in our professional lives as well. We've got all our acronyms and our little words that we use that send a signal - I'm one of the club."
Mike Clarke from Bideford in Devon contacted the BBC News website to show his support for Ms Thompson's stance.
He said: "I entirely agree with her comments - I have been a solicitor for over 25 years and have to communicate and engage with people with widely differing verbal ability and understanding. I despise both extremes - dumbing down language, just as much as 'poshing' it up.
"Both are endemic today and both demonstrate the very worst kind of patronising arrogance.
"They stem from a desire to set one's self apart from the other party - it's cultural snobbishness and ironic that it should often emanate from those who would consider themselves to be at opposing ends of the social spectrum."
Ms Thompson, who has written a new version of the musical My Fair Lady, also told the magazine that she was not interested in having plastic surgery.
"It really does seem to me to be quite psychologically dysfunctional and part of this ridiculous culture of perfection."
Related Internet Links
The BBC is not responsible for the content of external sites.