Blast bomb found in north Belfast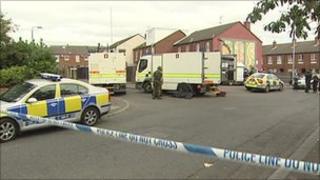 A security alert which followed the discovery by workmen of a blast bomb in Ardoyne in north Belfast has ended.
Homes in the Etna Drive area were evacuated during the alert on Saturday.
Army bomb experts later confirmed that the device contained "viable components" and described it as a "blast bomb-type device".
Temporary Chief Inspector Norman Haslett said he had no doubt those responsible for assembling the device had intended to kill police officers.
"However, to leave a blast bomb in the heart of such a busy residential area serves as an example of the reckless disregard these people have for the welfare and safety of local families," he said.
"Had a local child inadvertently stumbled across this device the consequences are unthinkable.
"Police will now fully investigate how the device came to be left in the area and I would urge anyone with any information to get in touch with police on 0845 600 8000."