Big rise in violent dog-on-dog attacks, say pet groups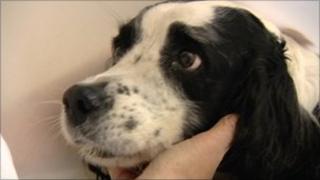 A big increase in the number of violent dog-on-dog attacks, particularly in urban areas, has been noticed by pet charities.
They say responsible dog owners are being forced to walk their pets at night because of the fear of other dogs attacking them during the day.
Present laws banning certain types of dangerous dogs do not work, they add.
The Dogs Trust is backing a "deed not the breed" bill for England and Wales currently going through Parliament.
'Increasing trend'
Although no figures have been collated, Dogs Trust veterinary director Chris Laurence said: "We are getting more and more reports of dogs that are perfectly innocently walking through a park being set upon by an aggressive dog.
"It's an increasing trend and sadly when there is a disparity in size the small dog ends up being killed."
Pet charities said it was not only so-called status dogs that were to blame for the attacks.
Lord Redesdale, who is putting forward the bill, explained if a notice order was placed on a dog, it would be micro-chipped. He said this would mean an owner could be linked with the dog, which would make them more responsible.
"That would mean that the owner would be much more careful about the behaviour of the dog because they couldn't get away with saying it's not my dog, it's somebody else's dog, I'm just walking it for a friend," he said.
"The court can then impose a notice order saying, in a graduated way, saying that the dog has to be on a lead, the dog has to be muzzled, whatever, the owner has to go to training. If they break that condition then of course the penalties become more serious."
'Dog Asbos'
But dog trainer and behaviourist Robert Alleyne said legislation alone would not prevent attacks. He said dog owners needed to be trained to understand their pets so they, in turn, would listen to their owners.
He said: "With dogs who are aggressive the most important thing is to get the dog to understand that when the owner talks they have to listen. It's not a discussion anymore."
Elaine Pendlebury, senior veterinary surgeon for the PDSA, says the responsibility should be placed on the owners.
"I think it's owning the appropriate dog for you. You know, they call them status dogs but they're not status dogs. They're more like weapons really that are going out to attack."
Dog owner Chris Hannaford said her springer spaniel Skipper was lucky to be alive after it was attacked in a park by two large huskies.
She told the BBC: "They had him and he was sort of on his side. I thought they were going to kill him. He was just screaming, he was really making an awful noise, like a baby screaming."
Legislation dubbed "dog Asbos", similar to that proposed for England and Wales, is already in place in Scotland. In Northern Ireland it will soon be an offence to allow a dog to attack and injure another person's dog.