Archbishop urges Catholics to make faith more visible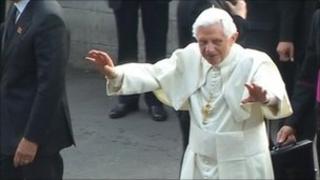 Catholics in England and Wales are being urged to build on the visit of Pope Benedict by being more confident in expressing their faith.
The Archbishop of Westminster says Catholics should be more ready to make the sign of the cross and say "God bless you" to people.
Vincent Nichols said believers had been given "new heart" by the Pope's four-day visit to Scotland and England.
His pastoral letter will be read out in Westminster archdiocese this weekend.
The Archbishop called on Catholics to respond to the Pope's hope that they would become "ever more conscious of their dignity as a priestly people".
'Beauty of holiness'
Writing a week after the papal visit, Rev Nichols said: "With the blessings of this visit we can be more confident in our faith and more ready to speak about it and let it be seen each day.
"A small step we can all take is to be quicker to say to others that we will pray for them, especially to those in distress.
"Even the simple step of more regularly using the greeting 'God bless you', gently and naturally, would make a difference to the tone we set in our daily lives, as would the more frequent use of the sign of the cross.
"Making faith visible is so much a part of the invitation the Holy Father has extended to us all."
There have been a number of disputes between Christians and employers over public displays of faith, but Archbishop Nichols tells Catholics that after the Pope's visit, they should be more confident in their faith and more ready to let it been seen.
He said that during the four "marvellous and unforgettable" days of the Pope's visit, Catholics had "glimpsed the beauty of holiness".
He added: "I will never forget the richness of the silence of 80,000 people at prayer before the blessed sacrament in Hyde Park."