Q&A: Council tax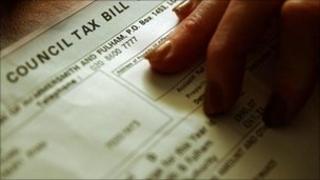 Council tax bands in England will not be revalued during the current Parliament, the government has announced.
Here we take a closer look at the tax, and how it is determined which band a house falls into.
What is council tax?
Council tax is a local property tax in England, Scotland and Wales.
It is levied by local authorities to top up government funding for the services they provide.
Northern Ireland has a different local tax called rates.
How much a household has to pay in council tax - relative to other people in their local area - is firstly determined by the value of the property, and therefore where it sits in a series of valuation bands.
Council tax was introduced in 1993, based on valuations carried out in 1991. In England and Scotland homes have not been revalued since then, although revised valuations were introduced in Wales in 2005.
How many bands are there?
In England there are eight property price bands, ranging from A to H, still based on the value of a property back in April 1991.
The bands and their price ranges are as follows: A (up to £40,000), B (over £40,000 and up to £52,000), C (over £52,000 and up to £68,000), D (over £68,000 and up to £88,000), E (over £88,000 and up to £120,000), F (over £120,000 and up to £160,000), G (over £160,000 and up to £320,000), and H (over £320,000).
The system works so that those in the top band pay three times as much council tax as those in the bottom.
The "middle" Band D - normally quoted as the average band - pays one and a half times Band A.
The cost levels for the bands in Wales and Scotland are different to those in England.
Who carries out the valuations?
Valuations are calculated by inspectors from the Valuation Office Agency (VOA), which is part of HM Revenue & Customs.
VOA officials have faced criticism in the past for being intrusive.
This has been touched upon by Communities and Local Government Secretary Eric Pickles, who has announced an independent review of the inspectors, saying he would "rein in intrusive snooping".
What does council tax pay for?
Local services such as planning, transport, highways, police, fire, libraries, leisure and recreation, rubbish collection and disposal, environmental health and trading standards.
It does not pay for health services.