Clegg shows his diplomatic experience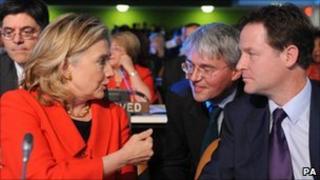 Nick Clegg may be in New York, but at a press briefing at an unearthly hour in the morning the deputy prime minister was nonetheless fielding questions about the Liberal Democrats' conference on the other side of the Atlantic.
"A storm in a teacup," was how he characterised the reaction to Vince Cable's outspoken criticism of unregulated capitalism.
Patiently, he returned to this topic several times with the assembled reporters, even though he'd come to New York to attend the United Nations summit on helping the world's poorest.
Mr Clegg's first overseas venture standing in for the Prime Minister David Cameron is his chance to put the Liberal Democrat emphasis on the coalition's foreign policy.
Most diplomats at the United Nations know the coalition is about to embark on public spending cuts.
This was Mr Clegg's opportunity to tell the world that Britain intends to keep its promises to the globe's poorest, even if he is being criticised by his own party for cuts back home which may affect the most vulnerable.
There was applause for this message as he addressed delegates from the floor of the General Assembly, the nearest the world has to a parliament - 192 countries are represented there.
A few delegates took pictures of Britain's youthful deputy prime minister on their cell phones.
However, the phones went into overdrive as Mr Clegg left the podium and was followed by Barack Obama - the hall lit up with flashes and the whirring of shutters from the press photographers' cameras, as the US president spoke.
He echoed a theme articulated by Mr Clegg - that spending on overseas aid is important because it helps create a safer world. The two men even had a brief chat, away from from the main stage.
That wasn't Mr Clegg's only encounter with the US administration.
In a conference room dramatically bathed in blue light, he shared a platform with US Secretary of State Hillary Clinton.
Both politicians pledged to do more to help reduce the number of women dying during childbirth, and to reduce infant mortality. The UN Secretary General Ban Ki-moon looked on approvingly.
Linguist
Mr Clegg was quite at ease, as though he spent every day in the company of America's top diplomat and billionaire philanthropists - in this case, Melinda Gates, of the Bill and Melinda Gates foundation.
He's also video-conferenced with the US Vice-President Joe Biden, who is said to take an avuncular interest in Britain's deputy prime minister - the two men will meet in person in Washington on Thursday.
Nick Clegg is clearly au fait with the somewhat cloistered world of international diplomacy.
As he pointed out to reporters covering his visit, he was an international trade negotiator in a previous incarnation.
He's worked at the European commission, is a talented linguist, and won't be easily baffled by seemingly obscure UN acronyms.
'Cosmopolitanism'
The Doha Development Round and the Millennium Development Goals are not Greek to him - he's mastered the language of development speak too.
Which is why the moderator at New York University, Ellen Schall, introduced Mr Clegg to her students as exemplifying cosmopolitanism.
The students asked him about everything from his opposition to the war in Iraq, to how he'd define whether the coalition government is a success.
I can come back and tell you in five years, said Mr Clegg - a pledge his audience intend to hold him to.
By then, he'll know whether this experiment in British democracy has worked - you make it sound like a petri dish, as he pointed out to a student questioner.