Death of soldier leaves 'gaping hole' in family's lives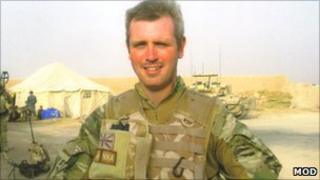 The family of a British soldier killed in Afghanistan on Saturday have said his death will "leave a gaping hole in our lives".
Sgt Andrew Jones, 35, of the Royal Engineers, was killed alongside Trooper Andrew Howarth, of The Queen's Royal Lancers, while patrolling Lashkar Gah.
Sgt Jones, of Newport in south Wales, leaves wife Joanne and three children.
The number of British military personnel killed in operations in Afghanistan since 2001 is now 337.
Mrs Jones paid tribute to her husband, saying: "Andrew was a happy, funny and caring man. He was a loving husband, father and son, and he will leave a gaping hole in our lives."
He was serving as a reconnaisance engineer, as part of Fondouk Squadron, the Queen's Royal Lancers in Helmand when he was killed.
Sgt Jones was a student at Lliswerry Comprehensive School before choosing to join the Royal Engineers.
He underwent his basic training in Bassingbourn in Cambridgeshire in 1998, before passing the Royal Engineers Combat Engineering Course later that year.
'Proud Welshman'
Sgt Jones, who completed a tour of Kosovo soon after finishing his training, was sent to Afghanistan earlier this year.
The two men were on patrol in a Jackal armoured vehicle attempting to prevent insurgent activity when they were killed by a roadside bomb planted by the Taliban.
Lt Col Martin Todd, the commanding officer of the Queen's Royal Lancers, said Sgt Jones had been a proud Welshman.
In comments on the Ministry of Defence website, he said: "His courage and good-humoured leadership inspired all those in his troop, particularly when the going was hard. He died serving his corps and country while protecting ordinary Afghans.
"A proud Welshman, who exhibited all the fortitude of his countrymen, he was at heart a devoted family man."
Staff Sgt Nicholas Robinson, of the Royal Engineers, said he first met Sgt Jones in Kosovo.
"As a young sapper in the squadron Andy loved the ethos of 'work hard, play hard', especially at weekends when the squadron bar was open.
"It was a good test of our friendship when England played Wales at rugby; when England won, he would sulk for about five seconds before getting another round of drinks."
Warrant Officer Class 1 (Regimental Sergeant Major) Leon Mattear, of The Queen's Royal Lancers said that Sgt Jones had been fully committed to his life in the Army.
"Sgt Jones was quiet by nature, to those who didn't know him well, a keen rugby player and an active member of the Warrant Officers' and Sergeants' mess.
"He was regarded very highly within Fondouk Squadron for his expertise and experience and was always on hand to help out with any engineering tasks... an utterly dependable senior non-commissioned officer, an asset to the squadron and the regiment.
"He will be deeply missed by his friends and family within the regiment, but by no-one more so than his wife and three children; our thoughts and prayers are with them at this time of pain and sorrow."