Liberal Democrats party conference makes the headlines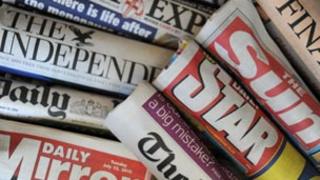 Many of Tuesday's papers focus on the Liberal Democrats' party conference, which is continuing in Liverpool.
Every train from London disgorged "fresh supplies of metropolitan opinion formers", says the Daily Telegraph.
The Independent says the conference witnessed a large number of attractive attendees, thanks to the Lib Dems now being in a coalition government.
The paper explains that "aggressively well-presented blondes will congregate in places of wealth, power and action".
Opinion on the speech given by Lib Dem leader Nick Cleggg is mixed.
Kevin Maguire of the Daily Mirror describes it as a "sad excuse". However, the Times says the speech was both "serious" and "grown up".
Sangin exit
Writing in the Daily Mail, Max Hastings says the British army's departure from Sangin is "a milestone in Britain's unhappy experience" in Afghanistan.
He says the campaign in Helmand has been "a shocking mess", and it is tough to see what has been achieved.
The Daily Express says that as they leave Sangin, British troops have much to look back and feel proud about.
However, it also touches upon the difficulties and sacrifices our soldiers faced, saying that "at last we're leaving hell".
The Guardian says Sangin has become "a death trap for UK soldiers".
Withdrawing British troops can "hold their heads high," says the Mirror. The Sun says Britons will be "awestruck" at the courage of UK troops.
The latest match fixing allegations surrounding the games between England and Pakistan are also reported extensively in most newspapers.
The Independent says Pakistan's visit turned out to be "the most ill starred tour of modern times".
On a lighter note, the Daily Telegraph welcomes the new set of limited edition stamps released by the Royal Mail.
It says it is a "bold" decision by the Royal Mail to use popular cartoon characters Wallace and Gromit.