Pain and reflection for Sangin troops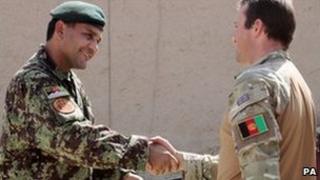 "There've been really bad days, especially when one of our lads got killed. That was hard to carry on."
Those were the words of Marine James "Ned" Kelly, as he and his comrades prepared for one of their final patrols in the dangerous Sangin area in southern Afghanistan's Helmand province.
British troops have been fighting for five summers across Helmand. So far 337 have died - nearly a third of whom died here in Sangin.
Today Britain handed over control of Sangin to US forces. The occasion marked a time to reflect on what had been achieved, and also for some hard questions about sacrifices made.
Lt Col Paul James, the commander of the 40 Commando Royal Marines Battle-group in Sangin, insisted progress has been made and that the losses have not been in vain.
He said: "I won't say is it worth the loss of life because of course the loss of life is always extremely traumatic. I'll certainly say it's never been in vain. We recognise the job's not done, there's a long way to go. But actually it's certainly on the right course."
Extremes
I joined British and US Marines as they prepared for one of their last joint patrols. Commanders were keen to show us what they have achieved; how Sangin has prospered and how much safer it has become. But for marines like James Kelly it remains a dangerous place to serve.
He said: "It's crazy, because you can have weeks when quiet and mellow, serene almost. But then it can switch so quickly to getting in contact with the enemy; two, three hour fire-fights. Sangin has lived up to its reputation, massively."
Over the course of the day we witnessed a long and brutal fight between coalition troops and the insurgents - a battle that took place just 800m from the main base in the district centre.
Two 500lb (226kg) bombs were dropped, a Javelin missile was fired, and the streets and alleyways of the town echoed with the cracks and whizzes of gunfire.
It used to be like this all the time in Sangin. Now the battles are less frequent, but it shows the Taliban are still here and battling coalition troops. It will be up to the American Marines to try and finish the job Britain started.
More than 10 soldiers and civilians were wounded in fighting throughout the day. No British troops were injured this time, but the marines know what days like this are like. Sgt Andy Hughes - one of the medics who is on his third tour of Afghanistan - finds it hard to talk about his time in Sangin.
He said: "You can't describe the smells, the sights; there are no amounts of words that describe all this, even pictures don't seem to work. You have to be there and feel the emotions to have a true understanding of what the people here go through."
After so much blood and money has been expended in Sangin, the thought of leaving with so much work left to do is hard to take for some. Marine Kelly says he is sure the "Yanks" will finish the job - but it is a bitter-sweet moment:
He said: "I do feel a little hollow that we didn't break this place, we didn't bring it to our way of thinking. I feel a little heartbroken that we didn't finish it."
So Britain's mission in this troubled part of Helmand is coming to an end. It cost the lives of 106 men and the debate over the sacrifice and whether the gains have been sufficient will continue long after the marines have left Sangin.
And elsewhere in Helmand, Britain's fight continues in a war that still shows few signs of easing.