End of Pope's visit to Britain covered in the papers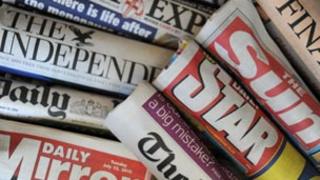 The end of the Pope's four-day visit to Britain is extensively covered by many of the day's newspapers.
The Daily Telegraph's front page carries a large photograph of the Pope smiling and giving a final wave while boarding a plane in Birmingham.
The Guardian says the open air ceremony in Birmingham, where the Pope beatified Cardinal John Henry Newman, resembled a "soggy, Catholic Glastonbury".
It also carries a picture of nuns wearing umbrella hats in the rain.
Conference news
The Guardian also looks ahead to the deputy prime minister's speech to the Liberal Democrat conference in Liverpool.
It says Nick Clegg will indicate that there will not be any "electoral pact" with the Conservatives in the future.
On its front page, the Independent says Mr Clegg will try to justify signing up to the Conservative-led budget cuts.
The Daily Mail is scathing about the measures - announced at the Lib Dem conference - to clamp down on wealthy people who avoid paying tax.
The Daily Mirror and the Sun say a man who fathered at least eight children by eight women does not give them any money.
Instead, they say, he leaves them to claim benefits which will ultimately cost the taxpayer nearly £2m.
Arts cuts
Theatre producer Sir Cameron Mackintosh tells the Independent that the cuts in arts funding need not have a catastrophic effect on theatre.
The cuts are part of the government's general reduction in spending.
The Daily Express has the story of the first quadruple amputee to swim the English Channel.
Philippe Croizon, 42, used prosthetic flippers and swam about 2mph, completing the 21-mile crossing in just over 13 hours.
According to the Daily Star, Britons are defying the recession by taking up extreme sports.
Activities such as sky diving, bungee jumping and powerboat racing have risen to record highs, the paper says.