UK commits further £70m to Pakistan for flood relief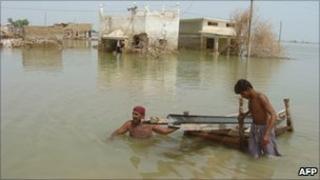 The UK is doubling its aid to Pakistan to help with the recovery from its devastating floods, pledging an extra £70m on top of £64m already committed.
International Development Secretary Andrew Mitchell said the aid would help get children back into education, after some 8,000 schools were destroyed.
Eight million people rely on handouts to survive, six weeks after the monsoon rains caused the flooding.
Some 20 million people in an area larger than England have been affected.
The amount of UK aid now totals £134m and this latest donation comes as the UN appealed for £1.3bn to help with the relief effort.
Mr Mitchell said: "Aid so far has focused on keeping people alive. We need to continue to focus hard on the public health dangers, which remain extremely serious.
"But we also now need to start helping people to get back on their feet.
"With four out of five people affected by the floods dependent on farming, it is vital that we replace lost seeds, grains, and tools before the critical planting season next month and in November."